Referendum 2020 main organiser linked to militants: Central and Punjab police
A New York-based organisation "Sikhs for Justice" (SJF) is organising the referendum but Indian officials say it is a front for pro-Khalistan and anti-India activities in the US and other countries.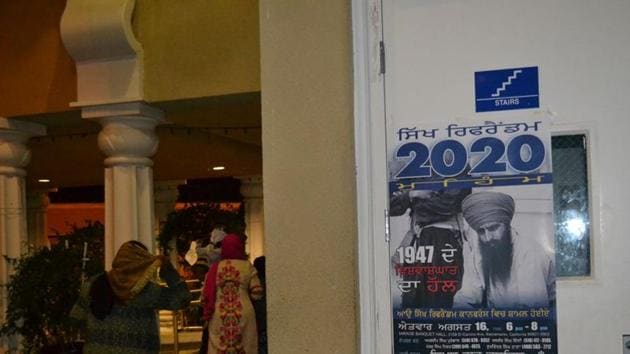 Updated on Aug 10, 2018 12:02 AM IST
One of the main organisers of "Referendum 2020", a referendum for "liberation of Punjab from Indian occupation", tried to stall terrorist Jagtar Singh Tara's extradition from Thailand to India and also put up a legal fight on behalf of another known Khalistani militant Paramjit Singh Pamma who was arrested in Portugal, and also has direct links with the Pakistani spy agency Inter Services Intelligence, say central and Punjab police officials who asked not to be identified.
A New York-based organisation "Sikhs for Justice" (SJF) is organising the referendum but Indian officials say it is a front for pro-Khalistan and anti-India activities in the US and other countries. On August 12, an event is being organised in London to unveil the case for Sikhs' right to self-determination as guaranteed in the UN Charter and International Covenant on Civil and Political Rights.
The Union home ministry and Punjab police officials familiar with the matter say a US-resident Gurpatwant Singh Pannun, prime mover behind the London event and the referendum, is associated with the SJF as a legal advisor.
"He is closely associated with prominent Sikh extremists like Jagtar Singh Tara of Khalistan Tiger Force (a militant outfit), UK-based Paramjit Singh Pamma and Hong Kong-based Ramanjit Singh Romi," says a Punjab police report seen by HT.
Though Tara, an accused in the assassination of former Punjab chief minister Beant Singh, was sent back to India earlier this year from Thailand, a court in Portugal refused to extradite Pamma to India in 2016.
Ramanjit Singh Romi too has been under provisional arrest in Hong Kong and the Indian authorities are hopeful of securing his extradition soon.
"Pannun takes active interest in the legal matters of radical Sikh elements and leaves no opportunity to criticize India whenever they (the radical elements) are arrested for their involvement in terrorist activities in India," adds the report.
Officials say Pannun met Tara in a Bangkok prison and tried to stall his extradition to India. He also represented Pamma (who is also among organisers of the London event) and arranged for financial help to fight his case in Portugal where he was arrested in 2015. A court in Portugal refused to send him to India. Pannun also met Romi in Hong Kong in February this year. Romi is wanted in India.
The report further adds that Pannun is also a known collaborator of Kashmiri separatist Ghulam Nabu Fai who served a prison term in the US on the charges of being on payrolls of the ISI, which the Indian security officials suspect is the real organiser of "Referendum 2020".
"Few ISI officers are also visiting European countries and contacting Sikh extremist groups and leaders. Abbas Rana, an ISI officer has visited Canada and met several Sikh extremist and motivated them into instigating a campaign for the Sikh freedom. ISI has designated few senior officials like Lt Col Shahid Mehmood Malhi to handle the SJF-run campaign "Referredum 2020"," says the report.
Pannun, however, said linking "Sikh right to self-determination campaign with the ISI" is absurd and farcical. "SFJ's campaign is being funded by selfless, hardworking Sikh community across the world."
He said he went to Thailand to defend Tara, who said he had assassinated Beant Singh "for leading a police force in extrajudicial killings of thousands of Sikh youth in the 1990s".
He insisted all the accused in the blast cases involving Pamma had been acquitted. "The UK has also investigated Pamma and found no evidence against him."
The website of "Referendum 2020" says: "The campaign aims to gauge the will of the Punjabi people with regards to re-establishing Punjab as a nation state. Once we establish consensus on the question of independence, we will then present the case to the United Nations for reestablishing the country of Punjab."
Interestingly, the Sikh diaspora in the UK too is also raising voice against the August 12 event.
Parminder Singh Bal, a former International Sikh Youth Federation functionary, told HT over phone from UK that a false drama is being enacted in the name of "non-binding" referendum which will achieve nothing. "We believe the referendum means nothing for the Sikh cause," said Bal.
Close Story
Personalise your news feed. Follow trending topics