'Save me and my husband,' BJP MLA's daughter petitions Allahabad HC
Updated on Jul 11, 2019 11:13 PM IST
The petitioners had appealed to the court that the police or Rajesh Mishra should not disturb them as both the petitioners are adults and had entered into marriage of their own free will.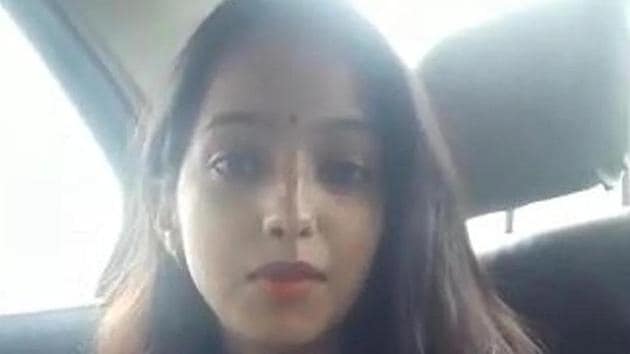 Hindustan Times, Prayagraj |
Jitendra Sarin
The daughter of a Bharatiya Janata Party (BJP) lawmaker of Uttar Pradesh on Thursday moved the Allahabad high court and sought security, claiming she feared for her life because her Brahmin family was opposed to her marriage with a Dalit.
Sakshi Mishra, 23, and her husband, Ajitesh Kumar, 29, in a petition to the court, said they were adults and had got married on July 4 of their own free will.
The father, Rajesh Mishra, separately issued a statement on Thursday denying his daughter's allegation. He said Sakshi Mishra was an adult and within her rights to take her own decisions. "I am busy with my party work and membership drive and I have not said a word to my daughter. These allegations are false," he said. The court listed the hearing on the matter for Monday at the request of the couple's lawyer, Vikas Rana, who filed the petition on their behalf.
On Wednesday, a video uploaded on social media from an undisclosed location purportedly showed Sakshi Mishra announcing her marriage. In another video, she purportedly said she faced a threat to her life from her father, brother and an associate of Rajesh Mishra, and urged the Bareilly police to provide security to her husband and herself.
Sakshi Mishra, whose father is the lawmaker from Bareilly's Bithari Chainpur, also sought the BJP's help while alleging that Rajesh Misra and others were out to kill her. "My father will kill me and my husband if he finds us. He cannot tolerate his daughter marrying a boy from a Dalit family," the voice on one of the videos is heard saying. She accused Bareilly police of working under her father's pressure.
Ajitesh Kumar's father, Harish Kumar, said the couple sent him a message saying that their lives were under threat and that attempts were being made to kill him. "... his [Rajesh Mishra] men sent them a message that they will be killed... I sent their marriage certificate and an application to SSP [senior superintendent of police] Bareilly and have now told media,'' news agency ANI quoted him as saying.
Deputy inspector general R K Pandey said that he ordered security cover for the couple after he came to know about Sakshi Mishra's video messages.
Later, Bareilly SSP Muniraj said the police had come to know of the couple's location. "As soon as they come into contact with us, we will give them protection," he said.
(With agency inputs)
Personalise your news feed. Follow trending topics