Latest from allahabad high court
The district court's decision on Thursday overturned a verdict by a Mathura civil court, which dismissed the petition in 2020 and said it violated the provisions of the 1991 Places of Worship Act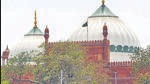 The apex court will hear the matter amid an important development with a Varanasi court on Monday directed the district administration there to seal the spot of the survey inside the complex where allegedly 'Shivling' has been found by the surveying team.

The videography survey of Gyanvapi mosque in Varanasi by a court-appointed panel concluded on the third day on Monday.

By
HT News Desk
| Reported by Sudhir Kumar | Written by Aniruddha Dhar
, New Delhi
A division bench of justices DK Upadhyay and Subhash Vidyarthi said the petition was not maintainable and that it lay outside the powers of judicial review

The plea was filed by Rajneesh Singh, a BJP youth media in-charge, before the Lucknow bench that sought the directions to the ASI to probe the 22 closed doors in the Taj Mahal to ascertain the presence of the idols of Hindu deities.