'Had no doubts about scrapping Article 370 or its impact': Amit Shah
Speaking at the launch of a book on Vice President M Venkaiah Naidu here, Amit Shah said he firmly believed that Article 370 that gave the special status to Jammu and Kashmir should be removed as it was not beneficial to the country.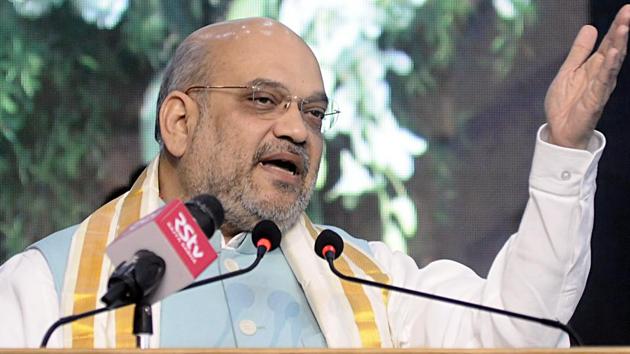 Updated on Jun 13, 2020 04:51 PM IST
Hindustan Times, Chennai |
MC Rajan
Even as restrictions were eased in parts of the Kashmir valley, six days after the lockdown, Home Minister and BJP president Amit Shah on Sunday reiterated that scrapping of Article 370, which provided for Jammu and Kashmir's special status, will bring to an end terrorism and usher in development.
"Even as an MLA in Gujarat, I was for the abrogation of the Constitutional provision according special status to Kashmir. As such, I was unwavering and after becoming the Home Minister, I entertained no confusion about scrapping it and its impact," Shah said, speaking here in Chennai at the launch of a book on the two years in office of Vice President Venkaiah Naidu on the eve of Eid.
Shah said Article 370 was neither beneficial to J&K nor to the country. It was an impediment to the progress of Kashmir, he added.
"I was firm that this has to be removed from the Constitution. Now, with its removal, Kashmir will witness an end to terrorism and it will proceed on the path of progress," the Home Minister made it clear.
Watch | 'Article 370 removal will end terrorism in Kashmir': Amit Shah
Despite the BJP-led National Democratic Alliance (NDA) lacking majority in the Rajya Sabha, Shah said, the bill was first tabled in the upper house of parliament and it was passed. In his reasoning it was a gamble and the government had succeeded in that.
Showering praise on the Vice President, Shah said he had not come as the Home Minister, but as a "humble student of Venkaiah Naidu". "His life, right from a college student leader to Vice-President, itself is a lesson for everyone. I have learnt a lot from him," he added.
Also read | 1964: When parties wanted Article 370 abrogated
The Home Minister, regretting his inability to address the gathering in Tamil, said though official preoccupation had deterred him to learn the language, he would one day speak in Tamil.
Speaking on the occasion, matinee idol Rajinikanth eulogised Prime Minister Narendra Modi and Home Minister Amit Shah, equating the duo to Lord Krishna and Arjuna for the Centre's bold move on Kashmir. The actor, known to be very close to the saffron party and its leadership, is yet to launch his political party but has declared to contest the State Assembly elections in 2021.
"Hats off to Home Minister Amit Shah for 'Mission Kashmir' operations and my wholehearted congratulations for the feat. The way you handled it was exemplary and the speech you delivered while tabling the bill was fantastic…fantastic sir," the south Indian superstar said, lauding the duo for abrogating Article 370 and reorganisation of the state, stripping it of its statehood.
Yet, even while commending them, he wriggled out of identifying as to who is Krishna and who is Arjun. "Both the leaders know who is who," he quipped.
He also praised Venkaiah Naidu as a "complete spiritual persaon" and a leader who is humane and one who is concerned about the welfare of the poor.
Earlier, in the morning Tamil Nadu BJP leaders, including state party chief Dr Tamilisai Soundarrajan, called on Shah at the Raj Bhavan while Chief Minister Edappadi K Palaniswami too met him separately.
Also read | Cabinet cleared Jammu and Kashmir move in 'just 7 minutes'
Close Story