Sea water microplastic in popular salt brands, reveals IIT-B study
Sep 03, 2018 07:01 AM IST
Researchers said the study has not named individuals brands because microplastic was found as a result of background sea pollution, and not during the process of extraction or manufacturing salt.
Most table salts sold in India are likely to contain microplastics from polluted sea water, a first-of-its-kind study for the country by the Indian Institute of Technology-Bombay (IIT-B) has revealed.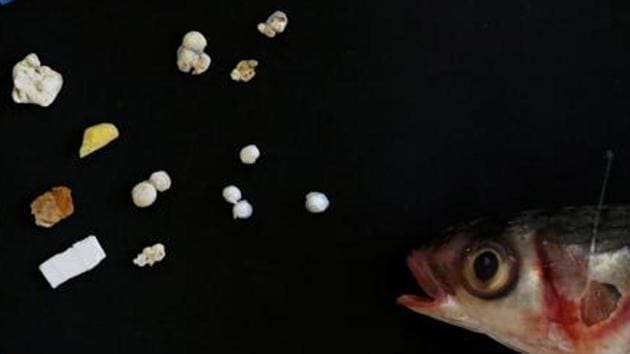 A two-member team from the institute's Centre for Environmental Science and Engineering (CESE) found 626 microplastic particles -- of which 63% comprised plastic fragments and 37% plastic fibres -- in samples of popular salt brands in India.
Researchers said the study has not named individuals brands because microplastic was found as a result of background sea pollution, and not during the process of extraction or manufacturing salt.
The US-National Oceanic and Atmospheric Administration (NOAA) classifies microplastics as measuring less than 5 millimetres, or the size of a sesame seed. They are generated when large plastic debris accumulated in the ocean degrades into tiny fragments. Microfibres, or tiny synthetic fibres, are mainly released from clothes while washing. Both microplastics and microfibres, national and international studies show, enter our food chain through sea food and now, possibly, salt.
According to a 2014 study published in a Public Library of Science journal, there are more than five trillion pieces of plastic floating in the world's oceans. Scientists worldwide have recorded the presence of microplastics in sea salt in various countries.The India-specific study is important because India is the third-largest producer of edible and industrial salt (26 million metric tonnes in 2017) after China (68 million tonnes in 2017) and the United States (43 million tonnes in 2017).
"Our results further confirm the global presence of microplastics in the sea-derived salts as reported from different parts of the world. This is the first report, with reasonable approximations, of the mass concentration of the microplastics in sea-derived salts," said professor Amritanshu Shriwastav, co-investigator, CESE. "The extensive dietary consumption of these Indian sea salts in multiple countries exposes a significant international population to the associated health effects of microplastic ingestion."
The study 'Contamination of Indian sea salts with microplastics and a potential prevention strategy' co-authored by Shriwastav and Chandan Krishna Seth was published in Environmental Science and Pollution Research, an international peer-reviewed journal, on August 25.
"This (IIT-B study) is a first, and an interesting study," said Madhavan Nair Rajeevan, secretary, ministry of earth sciences, adding that the National Centre for Coastal Research and National Institute of Ocean Technology are spearheading a project to assess and manage sea pollution in India. "Majority of the plastic enters the sea via rivers and estuaries, and microplastic is a bigger problem. We have started discussions on assessing the source of plastic that lands into the sea, and will soon begin the project."
The World Health Organisation guidelines recommend an intake of up to 5gm salt per day for adults. With 63.76 micrograms (0.063 milligrams) of microplastics per kilogram of salt as estimated in the IIT-B study, the maximum microplastic ingestion for Indians is estimated to be approximately 117 micrograms (0.117 milligrams) every year.
Researchers said while the effects on health with an annual dose of 117 micrograms of microplastics in sea salt is yet to be established, studies have shown microplastic contamination in sea food, and their ingestion via inhalation. Therefore, they said, that the aggregate human intake of microplastics from different sources is expected to be higher, and calls for a comprehensive exposure and risk assessment.
Governments across the globe don't have any standards on safe threshold for plastic in water and food, according to a 2017 report by Orb Media that said microplastics have been shown to absorb toxic chemicals linked to illnesses, and then release them when consumed by fish and mammals.
For the IIT-B study, three packages each of eight commercial brands of sea salt – of which one brand comprised open sea salt – was obtained from supermarkets and local markets across Mumbai between June and September 2017. All 24 packages sported different lot numbers and manufacturing dates between 2016 and 2017. Salt from six brands were produced in Gujarat – it accounts for about 77% of the country's production – while the remaining two were from Kerala and Maharashtra.
An analysis of the samples showed that 80% of the microplastic fibres and fragments were smaller than 2000 micrometres (2 millimetres) and 500 micrometres (0.5 millimetres) respectively. Fibres larger than 5 millimetres, though less in number, were also found.
At 61%, polyesters were dominant in both microplastic fragments and fibres, followed by polyethylene (22%) and polyamide (16%). Of all fragments that were extracted during the study, 74% particles comprised of polyesters including polyethylene terephthalate (PET) followed by polyethylene (19% particles), polyamide (7%), and polystyrene (less than 1%). As for microfibres, 39% consisted of polyesters of which 18% was PET, 34% polyamide, and 28% polyethylene.
PET is widely used in the manufacture of plastic bottles and containers for packing food, mineral water, beverages, personal care products, and flexible films. Polyesters and polyamide are used in the textile industry. Polyethylene and polystyrene polymers are predominantly used in the packaging industry.
Over the last four years, microplastics and microfibres in sea-derived salt have been found in China, Spain, Turkey, UK, France, US, as well as in 17 brands of salt from Australia, France, Iran, Japan, Malayisa, New Zealand, Portugal and South Africa that were bought from a Malaysian market. The number of microplastic particles found in Indian salts was similar to that in salts from Spain and Turkey, but lower than those in China.
To prevent or reduce the transfer of microplastics into sea salt, the researchers demonstrated what they described as simple sand filtration of artificially contaminated sea water. "We managed to eliminate more than 85% microplastics by weight and more than 90% of the particles that has the potential to lower their overall burden on human health through experiments conducted in our laboratory. The next step will be to test our method on a large scale by collaborating with industry," said Shriwastav.