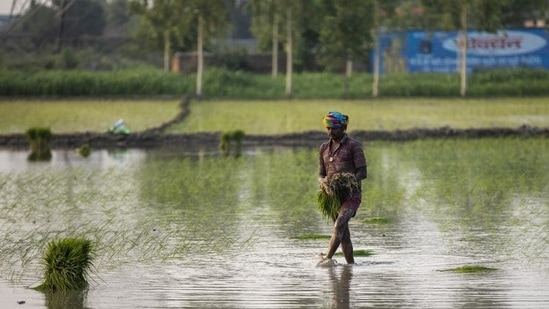 Section of rice exporters to get a 6-month breather on pesticide inspection
The inspection was to be made mandatory for other European countries, but it was deferred due to Covid-19 pandemic.
By Rajeev Jayaswal
, New Delhi
UPDATED ON JUL 12, 2021 11:27 AM IST
The government has given fresh six-month breather to pandemic-hit exporters by allowing them exemption from mandatory inspection of pesticide residue before exporting both basmati and non-basmati rice to European destinations, barring the European Union (EU) and four other countries in the region.
While government's certificate of inspection is already compulsory for exporting rice from India to 27 EU countries and Iceland, Liechtenstein, Norway and Switzerland; its mandatory requirement for remaining 23 European countries have been extended from July 1, 2021 to January 1, 2022, an official said requesting anonymity.
Thus, exporters get a six-month breather to export rice without the certificate of inspection by Export Inspection Council (EIC) or Export Inspections Agency (EIA) for European countries, such as Armenia, Azerbaijan, Belarus, Georgia, Moldova, Monaco, Turkey, Ukraine, United Kingdom (UK) and Vatican City, he said.
EIC is India's official export certification body that ensures quality and safety of products prior to export. It also provides mandatory certification for various food items such as fishery products, dairy products, honey, egg products, meat and meat products. It also certifies other food and non-food products on voluntary basis. EIC has global acceptance and it is assisted by EIAs.
"To ensure adherence to EU norms on pesticide residues, EIC/ EIA certification has been made mandatory for Basmati/ non-Basmati rice export to EU countries and 4 other European countries – Iceland, Liechtenstein, Norway and Switzerland," a commerce ministry spokesperson said.
The need of inspection was felt after some consignments of rice to EU were rejected because of pesticide residue mainly because EU in January 2018 imposed stringent norms for chemicals such as tricyclazole and buprofezin. The Directorate General of Foreign Trade (DGFT) had made EIC testing mandatory for rice exports to EU in November 2019, which led to decrease in the number of alerts.
The inspection was to be made mandatory for other European countries, but it was deferred due to the Covid-19 pandemic. "EIC/ EIA certification for exports to the remaining European countries was to become mandatory from July 1, 2020. However, due to Covid-19 situation, the date was first extended to January 1, 2021 and later to July 1, 2021. The date has now been further extended to January 1, 2022 in view of the disruption caused by 2nd wave of pandemic," the spokesperson said.
Gurnam Arora, rice exporter and a member of All India Rice Exporters Association (AIREA) said exporters wanted extension from the inspection requirement for non-EU countries in Europe due to technical reasons as well as cost of compliance. He is not in favour of over-regulation. "Industry is self-disciplined as any rejection would mean loss to the exporter," he said.
Exporters also want that pre-shipment inspection should not be limited to EIC and EIA laboratories. "It is noteworthy that for export to EU pre-shipment inspection mechanism has been operative for quite some time and testing could be done through any NABL [National Accreditation Board for Testing and Calibration Laboratories] accredited laboratories," Arora said.
Former president of AIREA, Vijay Setia said instead of over-regulation, educating farmers would be more fruitful in the long run.
The commerce ministry has already taken initiative in this direction, the first official said. "As a result of constant follow-up by the commerce department, the Punjab government imposed a ban on sale of nine chemicals, including tricyclazole and buprofezin, during the Kharif season 2020, which helped Indian rice to pass stringent pesticide residue norms," he said.
Close