7-judge bench to reconsider 2004 order on SC/ST categorisation
Aug 28, 2020 03:42 AM IST
The Supreme Court will re-examine its 2005 judgment that held that Scheduled Castes and Scheduled Tribes (SC/STs) cannot be further sub-classified for the purpose of reservation
Scheduled Caste (SC) and Scheduled Tribe (SC/ST) communities don't constitute a homogenous group and can be further sub-classified to ensure the benefits of reservation in government jobs and higher education institutions percolate down to weaker sections, the Supreme Court observed on Thursday in a ruling that may have far-reaching political ramifications.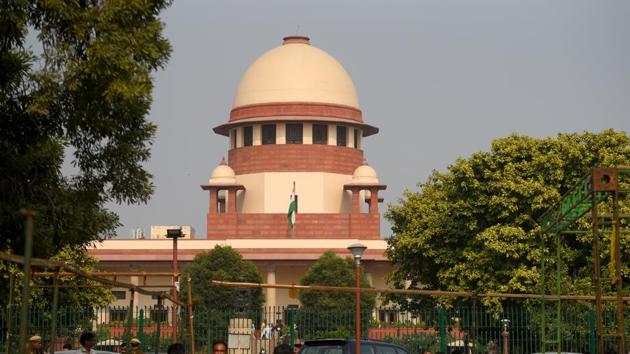 In the ruling likely to reignite the debate on application of the so-called creamy layer principle to SC/STs, a five-judge Constitution bench headed by justice Arun Mishra said there are unequals within SC/ST groups, necessitating their sub- classification, which state governments are entitled to do. The bench also called for review of a past top court ruling that SCs and STs were homogenous communities.
Stay tuned with breaking news on HT Channel on Facebook.
Join Now
"In case benefit which is meant for the emancipation of all the castes, included in the list of Scheduled Castes, is permitted to be usurped by a few castes, those who are adequately represented, have advanced and belonged to the creamy layer, then it would tantamount to creating inequality whereas in case of hunger every person is required to be fed and provided bread. The entire basket of fruits cannot be given to mighty at the cost of others under the guise of forming a homogenous class," the bench observed.
Also Read: The Supreme Court's jurisprudence on reservations has gaps | Opinion
The bench also said reservation for weaker sections was not contemplated by the Constitution makers in perpetuity and the constitutional goal of social transformation cannot be achieved without taking into account changing social realities.
Creamy layer is a term used to describe better-off individuals among Other Backward Classes (OBCs) who are ineligible for reservations. Households with annual income above Rs 8 lakh fall under creamy layer. SCs have a 15% quota and STs a 7.5% quota in government jobs and university seats. OBCs have a 27% quota.
Governments have been against extending this principle to quotas for SCs and STs on the grounds that they have been socially disadvantaged and backward for centuries and application of the creamy layer principle to them will defeat the object of reservation.
The ruling Bharatiya Janata Party declined to comment. The Congress said it was studying it.
Also Read: No obligation on government to provide reservation, says Supreme Court
"Supreme Court judgments are ultimately binding on us but subject to prescribed method of reviews and reconsideration. As of now, even the ink has not dried and therefore we are studying the judgment as it deals with a major social issue. Only after we finish reading what the apex court has said will we be able to formulate our views." said the Congress's Abhishek Singhvi. .
Communist Party of India (Marxist) politburo member Brinda Karat said: "We are against applying creamy layer to scheduled castes and scheduled tribes which would mean that some sections of these communities would be deprived of affirmative action. So we oppose these comments of the SC on applying creamy layer to SCs and STs. However. within the reservations there is already some sub-reservations, for example in tribal areas in Rajasthan; within the quota there is a specific quota for Bhils who form the majority. In Telangana, there is an issue between hill tribes and plains tribes. So it depends on the concrete situation in each state. This has not been taken into account by the Supreme Court.".
Attorney general KK Venugopal argued in 2019 against application of the creamy layer principle to SC/STs during the hearing of a plea by a non-government organisation (NGO) before the Supreme Court seeking exclusion of creamy layer among SC/STs from reservation benefits.
The top court will now re-examine its 2004 judgment in E V Chinnaiah v. State of Andhra Pradesh in which it was held that SC/STs form a homogenous class and cannot be further sub-classified for reservations.
"Chinnaiah is required to be revisited by a larger Bench; more so, in view of further development and the amendment of the Constitution, which have taken place," the bench, which also comprised justice Indira Banerjee, MR Shah, Vineet Saran and Aniruddha Bose, said .
Since the Chinnaiah case was also decided by a bench of five judges, the court directed that the matter be placed before Chief Justice of India SA Bobde to constitute a bench of seven or more judges to hear the case.
The case, State of Punjab v. Davinder Singh, stemmed from a law enacted by the Punjab government in 2006 requiring 50% of vacancies in the quota for SCs in recruitment to be filled by the members of the Balmiki community and 50% by those from the Mazhbi community
Section 4(5) of the Punjab Scheduled Caste and Backward Class Reservation in Service Act, which stipulated this condition, was challenged before the Punjab & Haryana high court by a person belonging to Shikriband caste, which is also classified as SC.
The high court ruled that section 4(5) was unconstitutional and contrary to the Chinnaiah judgment. When the case came up in appeal before the Supreme Court, a three-judge bench in August 2014 referred the matter to a Constitution bench.
A major argument raised on behalf of the Punjab government was that the Chinnaiah verdict erroneously proceeded on the premise that reservation given by states by extending preference to certain SCs tinkers with the Presidential List under Article 341 of the Constitution.
The Presidential List specifies the castes, races or tribes which are considered SCs.
However, the apex court held that only inclusion or exclusion in the Presidential list is by Parliament and there is no bar on states taking further affirmative action . "It cannot be said to be violative of the list under Article 341 and 342A as no enlisted caste is denied the benefit of reservation. In the federal structure, the State, as well as the Parliament have a constitutional directive for the upliftment of Scheduled Castes, Scheduled Tribes," the court said.