Shankar Mishra didn't pee on Air India flyer, woman urinated on herself: Lawyer
Jan 13, 2023 06:23 PM IST
"I did not urinate on the complainant," Mishra's lawyer told the Delhi Court, PTI reported.
Shankar Mishra, the man accused of urinating on an elderly woman co-passenger on an Air India flight, on Friday told a Delhi sessions court that he did not urinate on the complainant and she urinated on herself, news agencies reported.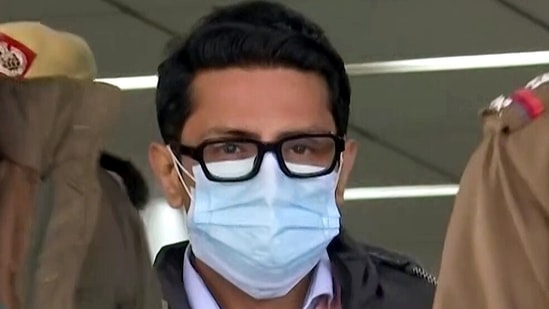 "I did not urinate on the complainant," Mishra's lawyer Ramesh Gupta told the Delhi court, PTI reported.
"The complainant woman's seat was blocked. It wasn't possible for him (Mishra) to go there. The woman has a problem with incontinence. She urinated on herself. She is a Kathak dancer, 80% of Kathak dancers have this issue," ANI quoted Gupta as saying.
The claim by Mishra's lawyer, made for the first time since the incident took place on an Air India New York-New Delhi flight on November 26 last year, flies in the face of denunciation of the accused by some of the co-passengers and even a string of WhatsApp exchanges he had with the victim woman which suggested the unsavoury incident indeed took place.
"She was suffering from some disease related to the prostate. It was not him. The seating system was such that no one could go to her seat," the lawyer reportedly said.
Ramesh also accused the police and the press of turning the case into a joke.
The sessions court judge, however, stated that it is not impossible to go from one side of the flight to the other. "Sorry, but I have travelled as well. Anybody from any row can come around and go to any seat," the judge said, asking for a diagram of the flight seating.
"Her seat could only be approached from behind, and in any case, the urine could not reach to seat's front area. Also, the passenger sitting behind the complainant did not make any such complaint," the defence advocate told the court.
The judge was hearing Delhi police's plea seeking custodial interrogation of the accused.
The Delhi sessions court had issued a notice to Mishra on an application filed by the Delhi Police seeking his fresh custodial interrogation.
Additional sessions judge Harjyot Singh Bhalla heard the application seeking revision of an order passed on January 7 by a metropolitan magistrate sending Mishra to 14-day judicial remand while denying police his custody.
The judge issued notice to the accused on the application moved by police and also a production warrant.
Metropolitan magistrate Komal Garg had on Wednesday denied bail to Mishra while calling his act "utterly disgusting and repulsive".
The court said the act has shocked the civic consciousness of people and needed to be deprecated.
On Friday, the sessions court allowed the Delhi Police to approach the magistrate with a fresh application detailing the grounds for police custody.