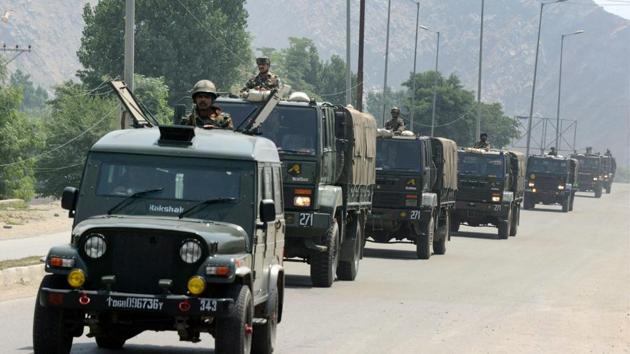 Shift in Kashmir strategy: Intel says 'resident militants' return to Srinagar
Intel suggested that "resident militants" had been ordered by their outfits to return from south Kashmir and operate from Srinagar instead.
UPDATED ON JUN 26, 2017 12:22 PM IST
At least five "resident militants" who previously operated out of south Kashmir have returned to the state's summer capital, intelligence inputs received by the state police show, signalling a shift in the militants' strategy.
Police officials told HT that irregular sighting of militants moving in the city has been reported in the past week, prompting cordon-and-search operations in Lal Bazaar, Batamaloo and Lal Chowk areas.
"This is clearly an attempt to put Srinagar at par with other areas of Kashmir, which have seen a spike in militant activities," said a senior official.
On Saturday, militants attacked a road-opening party of the CRPF, killing one jawan.
Till Sunday afternoon, efforts were on to flush out the militants who were holed up in a school building on the Srinagar-Jammu national highway.
It is, however, not clear yet if the latest incident is linked to the intelligence inputs received on June 17 about suspected militant movement in downtown area of Srinagar. HT obtained a copy of the intelligence report, which suggested that "resident militants" had been ordered by their outfits' brass to return from south Kashmir and operate from Srinagar instead.
In the past decade, there was a steady decline in militant attacks in Srinagar. "Even though south and north Kashmir are the two regions that have been affected by militancy the most, militants were active in the outskirts of Srinagar. The current movement of militants in the heart of Srinagar is definitely a cause of concern," said another police official.
Multiple officials in the security establishment said forces in the Valley were expecting militant attacks ahead of the first death anniversary of Burhan Wani, Hizbul Mujahideen's former commander, who was killed in an encounter on July 8.
However the possibility of setting permanent bases in Srinagar was a major concern as it could mean that militancy in the Valley might be entering a whole new phase. "There are constant inputs about presence of militants in Srinagar. The five men are resident militants in Srinagar," a security official said.
Kashmir DGP SP Vaid maintained that his police force was equipped to deal with the current situation in the Valley.
Srinagar has witnessed about 10 attacks in areas including Nowgam, Srinagar-Bemina Bypass, Khanyar and Safa Kadal this year. The latest attack was the killing of a policeman, identified as Shahzad Dilawar, in Srinagar city on June 11. Earlier in May, a PDP block president, Abdul Qayoom, was critically injured as militants fired at him in Barzulla area of Srinagar.
Close