Sonepat murder: Student arrested, says lecturer complained to parents for talking to girl
Mar 14, 2018 09:56 PM IST
The murder accused, who nursed a grudge for two months, shot the professor on Tuesday with a stolen revolver.
Rohtak The crime investigation agency (CIA) of the Sonepat Police on Wednesday arrested Jagmal Singh from Rohtak, a day after he shot dead his English lecturer Rajesh Malik (40) at Shaheed Dalbir Singh Government College in Sonepat's Pipli village.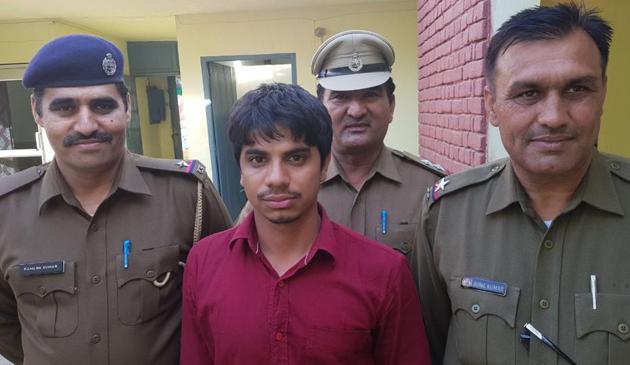 The 19-year-old accused, a B.A. second year student, was angry at his teacher for complaining to his and one of his female friend's parents about the duo talking in class.
"Around two months ago, Malik had scolded Jagmal for disturbing the class by talking to a girl. Jagmal had fought back, asking the teacher what was his problem if he was talking to his female friend. Due to Jagmal's rude behavior, Malik complained to both his and the girl's parents about them talking and disturbing the class," said inspector Indivar Singh, who headed the CIA team that nabbed Jagmal within 36 hours.
The police said the girl started avoiding him after Malik complained to the parents.
"This made Jagmal angry. He held a grudge against Malik and started planning his murder one month ago along with his friends," Indivar said after a preliminary interrogation of the accused.
On Tuesday morning, he stole his uncle's licensed revolver and went to the college and fired four shots at Malik who was sitting at the steno room with his 14-year-old daughter. Jagmal managed to escape unchallenged although a clerk witnessed the attack. Malik was rushed to a hospital where he was pronounced dead on arrival.
The principal of the college, Ravi Prakash Arya said Malik always tried to maintain discipline as eve-teasing and harassment were rampant in the college. "We had to rusticate some boys in the past for harassing girls. It was imperative that professors maintain discipline," he said.
The police said Jagmal's friends helped him board a bus to Gurgaon to stay with his cousins. Late Tuesday night, he boarded a train to Rewari and spent the night at Rewari railway station. On Wednesday morning, he took a bus for Rohtak to stay with a friend when the police nabbed him.
Police also arrested two of his friends for hatching a criminal conspiracy and helping him escape. His uncle Dinesh Singh whose revolver he used was also arrested. The police, who had also booked an assistant professor of the college on charges of instigating Jagmal to commit the murder, said her role in the entire incident could not be proven.