Stubble burning in Punjab down by 72% in October
Oct 22, 2018 10:48 AM IST
Farmers had earlier opposed using farm equipment for crop residue management citing cost factors.
A decline in stubble burning cases between October 11 and October 20 has reduced air pollution in Punjab, SS Marwaha, chairman of the Punjab Pollution Control Board, said on Sunday.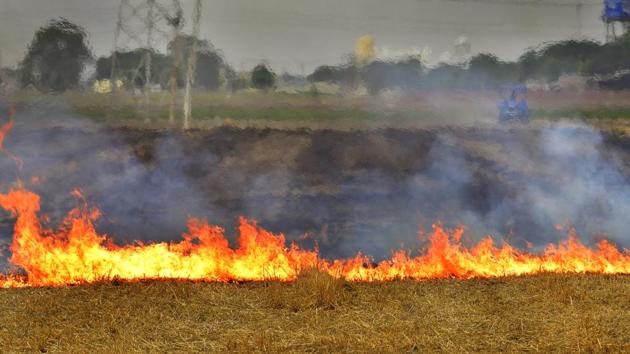 Stubble burning in Punjab and Haryana is a major cause of air pollution not only in the two states but also in the national capital.
Data from Punjab remote sensing centre shows that 1,584 cases of stubble burning were reported in the state from October 11 to 20, which is 72% less than last year figure of 5,787 in the corresponding period.
"This is an optimistic trend. Farmers are willingly shunning this practice. The machinery provided by the Punjab government at subsidised rates to handle paddy straw has helped the farmers to shun the practice," Marwaha said.
Farmers had earlier said that using farm equipments for crop residue management was not feasible because it put additional financial burden on small and marginal cultivators despite the state government giving a 50% subsidy to individual farmers and 80% to cooperative societies for buying the machines.
Due to lesser incidents of stubble burning, the air quality index of Punjab is much better than that in the corresponding period last year. The PM 10 level (presence in the air of particles with a diameter of less than 10 micrometres) is also down considerably as its average is 169 micrograms/m3, which was 444 last year.
Similarly, the PM 2.5 (presence of particles in the air with a diameter of less than 2.5 micrometres) is 83 micrograms/m3, which was 252 micrograms/m3 last year. This indicates that the air quality is much better this year in October, which witnesses maximum stubble burning incidents.
The AQI of Punjab is 153 against 326 in the corresponding period last year. An AQI between 0 and 50 is considered good, 51 and 100 satisfactory, 101 and 200 moderate, 201 and 300 poor, 301 and 400 very poor.