ISJK militant shot dead in Srinagar, Hurriyat activist in Sopore
Ishfaq Ahmad was shot in Hazratbal area of Srinagar on Saturday. Earlier in the day, Hurriyat activist, Hakeem Rahman, was shot at close range near his house at Bomai area of Sopore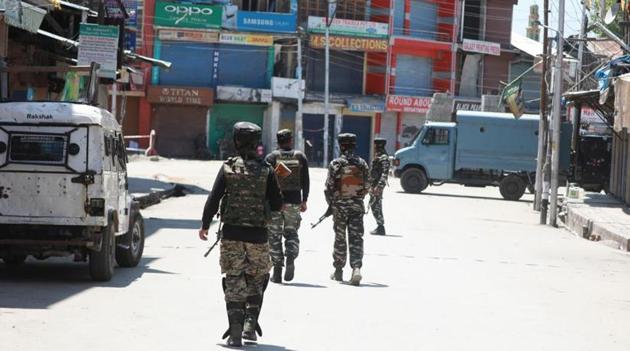 Updated on Sep 08, 2018 11:45 PM IST
A militant of the Islamic State in Jammu and Kashmir (ISJK) was shot dead in Srinagar on Saturday afternoon, hours after a Hurriyat activist was killed by unidentified gunmen in Sopore, police said.
The militant was shot near Naseem Bagh in the Hazratbal area and died on the spot, said a police officer. A pistol and a magazine was recovered from him.
An i-card of the Islamic University in the name of Ishfaq Ahmad was found on him but the varsity denied he was its student. The killed youth was later identified as Asif Nazar Dar of Awantipora in Pulwama district, reported IANS.
Based on preliminary information, police had earlier said Dar belonged to 'Ansar Gazwat-ul-Hind' - an affiliate of al-Qaeda in the valley led by Zakir Mussa
A police spokesman said that Dar was active since January 2017.
"Initially he had joined the proscribed terror outfit HM (Hizbul Mujahideen) but later got associated with the Eisa Fazili group of terrorists," he said, according to a PTI report .
Eisa Fazili alias Eisa Roohullah al Kashmiri, a son of a Kashmir University employee, was killed in an encounter with security forces in Anantnag in March along with two other ultras. The ISJK had said that he was their operative.
Earlier on Saturday, Hurriyat activist, Hakeem Rahman, was shot at close range near his house at Bomai area of Sopore.
"He was immediately shifted to a hospital where doctors declared him dead on arrival," a police official said.
The activist was affiliated with the group led by Syed Ali Geelani and had been recently released from jail.
Close Story