Survey to identify manual scavengers in 18 states misses April 30 deadline
Updated on Jun 11, 2018 10:39 AM IST
Eradication of manual scavenging is part of the BJP government's Swachh Bharat Abhiyan.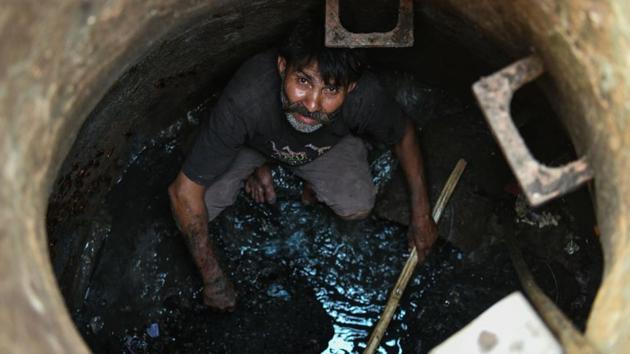 A fresh survey across 18 states to identify manual scavengers has missed its deadline of April 30, owing to the slow pace of work at the state level, partly because most states do not want to acknowledge that they haven't dealt with the problem, officials aware of the development said.
The survey was to be carried out in 164 districts by the ministry of social justice and empowerment in association with state governments and government think tank Niti Aayog. The aim of the survey, a pilot, is to identify people who are still engaged in the outlawed practice of manual scavenging or have stopped since 2013 but not signed up for the government's rehabilitation plan.
The Prohibition of Employment as Manual Scavengers and their Rehabilitation Act, 2013 (MS Act, 2013) has been in force since December 2013, making it illegal to employ manual scavengers.
Eradication of manual scavenging is part of the Narendra Modi government's ambitious Swachh Bharat Abhiyan launched on October 2, 2014 that aims to make the country open defecation free by 2019 to coincide with the 150th birth anniversary of Mahatma Gandhi.
"Work has been slow in states such as West Bengal and Karnataka because of panchayat and assembly elections, but we have also been receiving complaints of local administration being slow in setting up camps for registration in states such as Jammu and Kashmir, Bihar, Maharashtra and Jharkhand. We have taken up the issue with these states and asked them to step up the process," an official of the ministry of social justice and empowerment said on condition of anonymity.
Another official, who asked not to be identified, said Kerala has already concluded most of the registration work. "The ministry has received 600 plus applications from Kerala. Most other states are yet to file the forms of those who registered. Forms had to be returned to several states such as Gujarat for not being complete, and states such as Uttar Pradesh, where we expect a high number of registrations, are yet to send their responses."
Non-government organisations (NGOs) working in the sector who have been asked to help with identification have complained that in some districts, the administration has been turning away manual scavengers who do not have proof of being engaged in the practice — a document or photographs — from registering. As per the rules of the survey, manual scavengers can sign up without furnishing documents, but the local administration will have to verify their claims.
There's also another problem in some states. "States have given affidavits in courts stating that there are no people engaged in manual scavenging and those who were employed before 2013 (when the Act was enforced and the work made illegal) have been rehabilitated; in some districts our field staff received complaints that people were not allowed to submit their registration forms," said a volunteer at an NGO engaged in the field work in Rajasthan.
Asif Shaikh of the Rashtriya Garima Abhiyan that is partnering with the government said in the feedback to the ministry that they have asked for states to increase the number of camps in states with a higher population and advertise the survey more aggressively.
"States want to hide the real picture so it is good that the government has involved the NGOs in the survey," he said.
For the rehabilitation of manual scavengers, the government offers one-time cash assistance of Rs 40,000, skill development training up to two years with a stipend of Rs 3,000 per month, and a concessional loan for self-employment projects up to Rs 15 lakh with a capital subsidy up to Rs 3.25 lakh.
In the first phase, the survey is being conducted in urban and rural areas of the selected 164 districts in states such as Uttar Pradesh, Bihar, Kerala, Tamil Nadu, Assam, Gujarat and Haryana among others to identify those engaged in cleaning of dry latrines, open drains in which human excreta is flushed from insanitary latrines, and single pits attached to toilets.
Close Story
Personalise your news feed. Follow trending topics