Sushma lends support to British couple seeking passport for surrogacy baby
Hindustan Times |
, New Delhi
HT Correspondent
Sep 14, 2016 11:50 PM IST
External affairs minister Sushma Swaraj has taken up the cause of a British couple struggling to get a passport for their baby born through surrogacy.
External affairs minister Sushma Swaraj has taken up the cause of a British couple who face prospects of leaving their baby, born to a surrogate mother in Mumbai, in India due to the delay in processing her passport.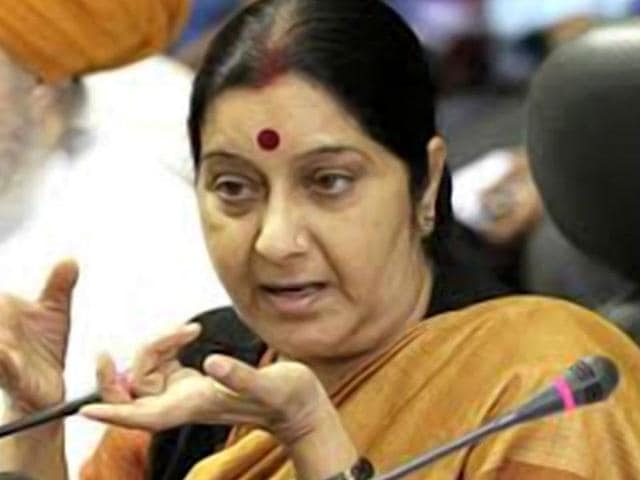 They applied for her British passport on June 3 but it has not been processed by the UK authorities yet. Chris and Michele Newman have been told that it may be processed after their medical visas expire on October 7, UK's Daily Mail Online reported.
As per a directive of the ministry of home affairs, foreign nationals have to come to India on medical visas if the visit relates to surrogacy. If the couple went back without four-month-old Lily, they may have to keep her in an orphanage until they return with her British passport.
"We can't believe that we could be forced to do the unthinkable and leave our baby in India!" the couple said in a petition on change.org. Swaraj took up their case on Wednesday in a series of tweets.
"Should orphanage be the destiny of a surrogate baby?...Chris & Michele Newman — Orphanage is not an option for Baby Lily. We will help u with extension of your Visa. Pl give your details…Meanwhile, pl obtain British passport for Baby Lily," she said.
The external affairs minister earlier faced flak after she linked a draft law on surrogacy with moral ethos and with "celebrity culture". The minister used the Newmans' case to slam her critics. "Commercial surrogacy is banned in Britain. Will British Government give a British passport to this surrogate Baby?...Will the advocates of commercial surrogacy suggest a solution and help this Baby," she tweeted.
Last November, India banned surrogate services for foreigners, but allowed the Newmans to proceed as the mother was already pregnant. Lily's surrogate mother is 25-year-old divorcee with a four-year-old daughter.
The mother was paid Rs 19.83 lakhs. The Centre is in the process of enacting a law to ban commercial surrogacy. The draft law, cleared by the Cabinet, also seeks to bar foreigners, single parents and homosexuals from having children through surrogacy.