After IAF strike, Sushma Swaraj calls for UN-led mechanism to end terror
Hindustan Times, Wuzhen |
Sutirtho Patranobis
Feb 27, 2019 12:12 PM IST
Sushma Swaraj said India does not wish to see a further escalation of the situation and India will continue to act with responsibility and restraint.
External Affairs Minister Sushma Swaraj on Wednesday raised a strong pitch for concerted international effort to combat terrorism at the foreign ministers meeting of RIC (Russia-India-China) in Wuzhen, China. Swaraj said that she raised Pulwama terror attack in Jammu and Kashmir with her counterparts from Russia and China during her meeting with these leaders.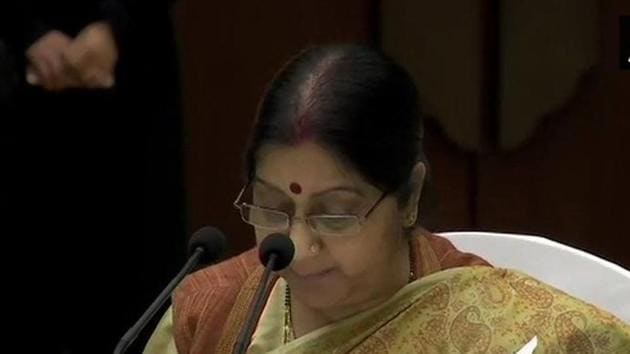 The external affairs minister said terrorism is a threat to the whole world and requires a mechanism led by the United Nations to combat it. She said, "We need a global strategy, global cooperation to counter-terrorism. I am happy to tell you today we discussed the establishment of UN-led global counter-terrorism mechanism and finalising CCIT (Comprehensive Convention on International Terrorism) proposed by India to implement it."
China's foreign minister, Wang Yi spoke in a well-calibrated way about tackling terrorism – Beijing and Islamabad are close allies and call themselves "iron brothers".
Talking about RIC's stand against terror, Wang said it was "especially important to eradicate the breeding grounds of terrorism".
Soon after, he came out in support of Pakistan's counter-terrorism efforts. "China, Russia, and India have reaffirmed our strong opposition to terrorism in its various forms and manifestations. At the same time, we believe that Pakistan has always been opposed to terrorism," Wang said.
"On recent developments between India and Pakistan, China appreciates the statements by Indian and Pakistani friends saying that they would exercise restraint and avoid escalation of the situation," he added.
"As a mutual friend to both India and Pakistan, we do hope that they can conduct dialogue to establish facts through investigations to keep things under control and maintain peace and stability in the region. In this process, China is playing a constructive role not the opposite," he added.
The joint communique released at the end of the RIC also talked about tackling terrorism.
The statements from the leaders and the communique come a day after India carried out strike at terror camps deep across the Line of Control (LoC) destroying the biggest Jaish-e-Mohammed terror camp at Balakot in Khyber Pakhtunkhwa province of Pakistan. Jaish-e-Mohammed had claimed responsibility for the Pulwama terror attack killing 40 soldiers in Jammu and Kashmir on February 14. The IAF strike, Foreign Secretary Vijay Gokhale said, was carried out in the view of "concrete" intelligence inputs that the Jaish-e-Mohammed was planning to carry out more terror attacks in India.
"As far as Pulwama is concerned, I had raised this issue in the bilateral meeting with Mr Wang Yi and also at RIC (Russia-India-China) forum," Swaraj said adding that the three countries agreed to cooperate to counter terrorism.
She, however, said that given the threat posed by terrorism, a strategy by three countries – India, Russia and China, would not be enough to meet the challenge. "You heard the address by Mr Wang Yi (Chinese foreign minister), he said - We will cooperate to eradicate breeding ground of terrorism and extremism -," she said, "It's not just a joint strategy but also our commitment...Terrorism is a threat to humanity, so strategy by the three countries is not enough."
The limited objective of the pre-emptive strike in Balakot across the Line of Control (LoC) with Pakistan was to act decisively against the terrorist infrastructure of the Jaish-e-Mohammed to pre-empt another terrorist attack in India, external affairs minister Sushma Swaraj said on Wednesday.
"In the light of the continued refusal of Pakistan to acknowledge and act against terror groups on its territory and based on credible information that JeM is planning other attacks in various parts of India, the government of India has decided to take pre-emptive action," Swaraj said.
"The target was selected in order to avoid civilian casualties. Excellences, this was not a military operation. No military installations were targeted," she added.
Indian Air Force (IAF) fighter planes destroyed a Jaish-e-Mohammed (JeM) terrorist camp in a pre-dawn strike on Tuesday in Pakistan's Khyber Pakhtunkhwa's province after penetrating deep across the LoC to enter Pakistani airspace for the first time in 48 years.
India described the air strike, in which government officials said over 300 terrorists, trainers and commanders may have been killed, as a "non-military pre-emptive action".
Also read: Govt's full statement on IAF airstrikes across LoC in Balakot
The strike by Mirage 2000 jets at around 3:30am was ordered on the basis of credible intelligence that the Pakistan-based JeM, which claimed responsibility for the February 14 suicide car bombing, planned to carry out suicide attacks in various parts of India. India said the attack on the group's biggest terrorist camp, located in the town of Balakot, was undertaken in self-defence.
Swaraj was making her opening remarks during the 16th Russia, India and China (RIC) foreign ministers' forum being held in Wuzhen, a picturesque water town in eastern China's Zhejiang province.
"India does not wish to see a further escalation of the situation and India will continue to act with responsibility and restraint," she said.
Also read: Yusuf Azhar, IC-814 hijacker, was key target of the Balakot air strike
Swaraj earlier told her Chinese counterpart Wang Yi that the worst attack on its soldiers in Kashmir's Pulwama district earlier this month was carried out by JeM under the cover and impunity given it to by Pakistan.
"The attack was carried by JeM, the Pakistan-based and supported terrorist organisation," Swaraj told Wang on Wednesday during her bilateral meeting on the sidelines of the RIC meet.
"I am visiting China at a time when there is grief and anger in India. It is the worst terrorist attack directed against our security forces in Jammu and Kashmir," she said.
Also read: Balakot camp blown up by IAF was Jaish's preferred training spot for 18 years
Stating that the JeM is banned by the United Nations and other countries, Swaraj told Wang that "… This terrorist attack is a direct result of the impunity and cover provided to the JeM and its leaders by the Pakistani side".
"After the Pulwama attack, the entire UN has spoken with a full voice to condemn it," she said.
The Indian foreign minister arrived in Wuzhen hours ahead of her meeting with Wang. She will be meeting Russian foreign minister Sergei Lavrov besides taking part in the trilateral forum.
Swaraj told Wang that this was their first meeting of the year and "therefore an opportune time for us to take stock of our bilateral relations and look ahead for cooperation".
"India-China relation is an important relationship for both of our countries. We have made substantial progress in relations," Swaraj said referring to the informal meeting between Prime Minister Narendra Modi and president Xi Jinping in Wuhan in April last year.
"It is important for both sides to make sure the through and effective implementation of the guidance given by the two leaders. Both the sides made efforts in this regard and we should sustain this," she said.
"Particularly the decision taken by our leaders to maintain strategic communication between them provided is an important foundation for the development of our bilateral relations. This channel of strategic communicator between the two of us and between senior officials should always remain open," Swaraj said.
Earlier, in a statement to the Hindustan Times about the importance of the RIC, the Chinese foreign ministry said: "China, Russia and India, as world powers and important emerging market countries, share common interests and shoulder important responsibilities in promoting world peace, stability and development".
"It has become an important platform for the three countries to strengthen strategic communication, coordinate their positions on major issues and seek consensus and cooperation," the ministry said. "Last November, the leaders of the three countries held informal meetings in Argentina, which pointed out the direction and injected strong momentum into the tripartite cooperation," it said.
The foreign ministry said that during this meeting, the foreign ministers of the three countries will take the implementation of the important consensus of the leaders of the three countries as the main line, and will have in-depth communication on major regional and international issues of common concern.