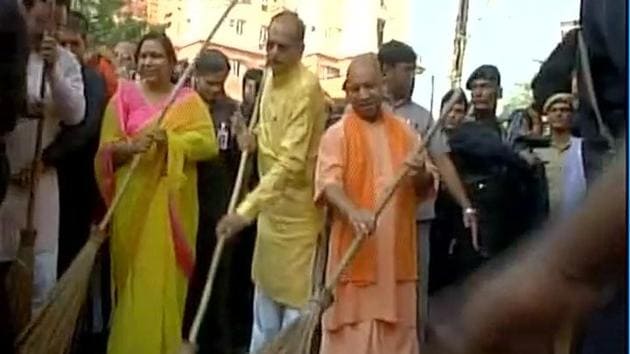 Swachh Bharat Abhiyaan: Yogi Adityanath takes up broom to clean Lucknow slum
The drive comes after a Swachh Bharat survey revealed that most of the cities in the state are among the filthiest in the country.
UPDATED ON MAY 06, 2017 08:28 PM IST
Uttar Pradesh chief minister Yogi Adityanath wielded a broom to launch a cleanliness drive at a Lucknow slum on Saturday to encourage people to keep their cities clean.
Accompanied by urban development minister Suresh Khanna and other party functionaries and government officials, the chief minister went about sweeping densely populated Balu Adda area of the capital city.
The drive comes two days after a cleanliness survey revealed that most of the cities in the state are among the filthiest in the country. None of the cities, barring Varanasi, from the state found a place in the list of 100 cleanest cities in 'Swachh Survekshan-2017.' Gonda in the state was adjudged the dirtiest in the country.
Amid shouting of Jai Sri Ram and Bharat Mata Ki jai, the chief minister kick-started the programme at 7am. Local residents said perhaps it was for the first time any cleanliness drive was conducted in the area.
Adityanath and his entourage cleaned about 300-metre stretch of the access road to the slum to "create awareness" about cleanliness among the masses during the 30-minute-long drive.
"People often hesitate to clean even their own surroundings. Our today's initiatives aimed at changing this mindset and motivating people to keep their own vicinity clean," urban development minister said, as he removed silts from the drains.
Khanna said such drive would be carried out on first Saturdays of every month in various parts of the state.
Chief minister also inspected the lone public toilet in the area and asked the municipal staffers to keep it clean after reportedly assuring a pay hike.
"Yogiji has asked us to keep the toilet clean. After enquiring about our salary which is a meagre Rs 2500, he assured us a hike," said Poonam Kumari, one of the staffers.
People of Balu Adda that has some 1000 households, however, said more than cleanliness, they need portable water.
"The water we get is very dirty and pale yellow in colour. Many a times we have also noticed human waste in the water. We have lodged many complaints with the authorities but to no avail. It would be good if Yogiji ensures supply of clean water," said Mithlesh, a housewife.
Close