Tamil Nadu, Karnataka stand firm as SC says Cauvery verdict in a month
The Cauvery river, which originates in Karnataka and flows into Tamil Nadu, has been the source of a bitter dispute as farmers in both states depend on the 800km river.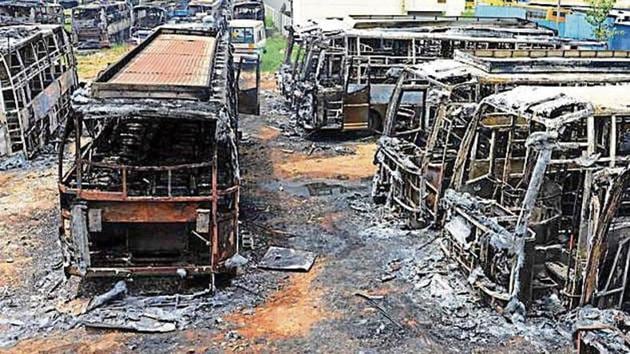 Updated on Jan 10, 2018 11:10 PM IST
Hindustan Times, Chennai / Bengaluru |
KV Lakshmana and Vikram Gopal
Tamil Nadu and Karnataka reaffirmed their position after the Supreme Court indicated on Tuesday it would deliver within a month its verdict on the decades-old Cauvery water-sharing dispute between the two southern neighbours.
The top court's remarks prompted Tamil Nadu chief minister Edapaddi Palanisami to announce in the assembly on Wednesday that his government will take every possible step, including the Centre's help, to secure the state' share of water from Karnataka.
"We will not give up the rights of Tamil Nadu under any circumstances," said KC Palanisamy, spokesperson for the ruling AIADMK, reiterating the mood in a state that depends heavily on Cauvery water to irrigate its farms.
In Bengaluru, the three major political parties in Karnataka hoped that the Supreme Court would rule in favour of the state's longstanding demand to increase its share of water.
The Cauvery, which originates in Karnataka and flows into Tamil Nadu, has been the source of a bitter dispute as farmers in both states depend on the 800km river. A British-era treaty governs water sharing between the two states, but Karnataka demands a tripling of its share.
The row flares up when monsoon fails, as it did in 2016 when Karnataka was reluctant to release water to its neighbour because of scanty rainfall, prompting Tamil Nadu to approach the top court. Riots broke out in both states after the court turned down Karnataka's plea to stop temporarily the release of Cauvery water to Tamil Nadu.
Karnataka now hopes the court will reduce the quantum of water allocated to Tamil Nadu — by at least 40 thousand million cubic feet — from the present 192 tmc ft .
According to state irrigation minister MB Patil, the state also wants three more issues addressed, including constitution of a Cauvery water management board.
"We want the quantum of water to be released between June and September to be reduced. Bengaluru needs at least 20 tmc ft," he said on Wednesday.
The Cauvery controversy is getting highlighted at a time the ruling Congress in Karnataka faces voters in about three months in the assembly elections. "We have an excellent team of lawyers led by Fali Nariman and we are confident that there will be justice," Patil said.
State BJP leader KS Eshwarappa, who was a former water resources minister, said Karnataka should get a judgment in its favour as it has never gone against the Supreme Court's directives.
"Even when we have not had good rainfall we abided by the Supreme Court's directions. So, it is certain that we will get justice," he said.
Former chief minister and Janata dal (Secular) leader HD Kumaraswamy felt the same way, saying his state had always followed the court's order, often making farmers angry in the process.
According to Kumaraswamy, the state's entitlement should be increased by around 50 tmc ft.
The two states hoped a Supreme Court verdict will end once and for all a lengthy legal tussle, but remained steadfast on their stand to protect their individual interests at all costs.
The AIADMK rebel faction spokesperson CR Saraswathi said the court should direct the Union government to set up the proposed Cauvery River Water Management Board, an authority to instruct or suggest measures and settle disputes.
The opposition DMK expects a judgment favouring the state's farmers. "Hope the Karnataka government will abide by the ruling," party spokesperson A Sarvanan said.
But farmers' associations in Tamil Nadu remained sceptical, though. Would Karnataka face contempt of court if it refuses to release water? And could the court force the state to release water? C Nallakannu, secretary of the Federation of TN Agriculturalists Association, asked.
"Karnataka has been flouting SC orders and does not release water as directed … even the apex court could do nothing. That's why farmers do not share any enthusiasm about the upcoming ruling," he said.
For its part, the Supreme Court observed on Tuesday that enough confusion has been created over the Cauvery water dispute. It said any forum could touch the matter relating to the Cauvery basin, only after it gave its verdict in four weeks.
A top court bench had reserved its verdict on appeals filed by Karnataka, Tamil Nadu and Kerala against the 2007 award of the Cauvery Water Dispute Tribunal (CWDT) on sharing of water on September 20 last year.
Close Story