TDP workers block Amit Shah's convoy, demand special status for Andhra
BJP workers following Shah's convoy resisted the TDP workers.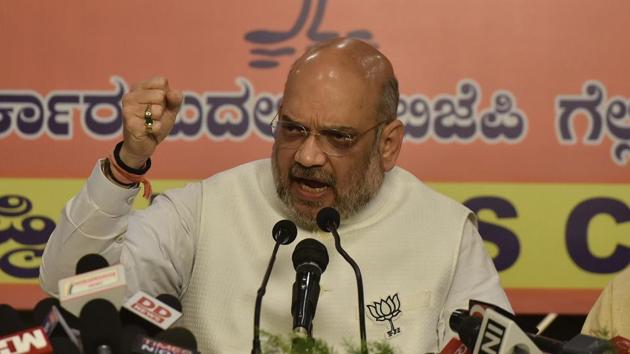 Updated on May 11, 2018 04:48 PM IST
Telugu Desam Party (TDP) workers demanding special status for Andhra Pradesh blocked Bharatiya Janata Party president Amit Shah's way, broke the windshield of a car in his convoy, and clashed with BJP workers near Tirumala in Chittoor district on Friday.
Shah, who finished campaigning for the Karnataka elections Thursday, came to Tirumala early Friday pray to Lord Venkateshwara. As he was coming out of the temple, devotees in a queue shouted slogans against the BJP and demanded special category status for Andhra Pradesh.
As Shah was returning to Tirupati down the Tirumala hills, TDP workers wearing black badges and holding party flags blocked his convoy at the Alipiri check-post. The workers squatted on the road and shouted slogans saying "Amit Shah Go Back," "We want justice" and "Give us special category status".
BJP workers following Shah's convoy resisted the TDP workers, resulting in clashes. A TDP worker threw stones at Shah's convoy and broke the windshield of one of the vehicles.
Security personnel accompanying the convoy and police officials at the check-post dispersed the TDP workers and detained some of as Shah's convoy drove away.
TDP chief and Andhra Pradesh Chief Minister N Chandrababu Naidu broke away from the BJP-led National Democratic Alliance government this year after failing to get more central funds.
That's a demand Andhra Pradesh has been making since it was carved up in 2014 to create Telangana. After serving as the joint capital of Andhra Pradesh and Telangana until 2024, Hyderabad will be transferred exclusively to the latter.
Close Story
Personalise your news feed. Follow trending topics