Telangana raises Muslim quota to 12% taking state's total quota above SC limit
Updated on Apr 16, 2017 09:46 PM IST
The Telangana assembly on Sunday unanimously passed a bill to increase reservations for backward sections among Muslims to 12 percent, taking the total quota in the state to over 50 percent, the limit set by the Supreme Court.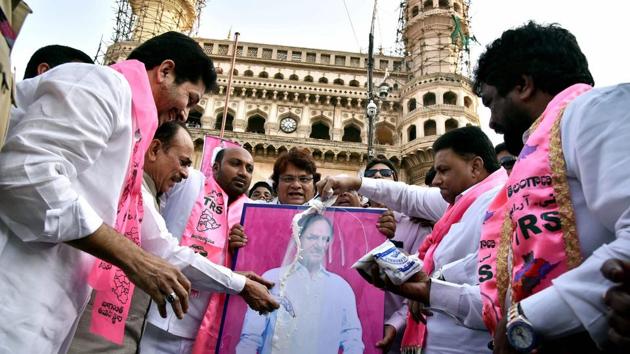 The Telangana government passed a bill on Sunday to increase reservation in jobs and education for backward Muslims to 12%, exceeding the Supreme Court's 50% ceiling for such benefits.
The Telangana Rashtra Samithi (TRS) government bulldozed its way, convening a special assembly session on Sunday, a holiday, to pass the bill through a voice vote after hours of intense debate and suspension of five BJP legislators who opposed religion-based reservations.
Backward Muslims in the new state — carved out of Andhra Pradesh in June 2014 — are already entitled to 4% reservation in educational institutions and government jobs.
Chief minister K Chandrashekar Rao introduced the proposed law: the Telangana backward classes, scheduled castes, scheduled tribes (reservation of seats in educational institutions and of appointments or posts in services under the state) bill, 2017.
"After the bifurcation of the combined Andhra Pradesh state, the percentage of Muslims in Telangana has gone up and 90% of them are poor and socially backward. Hence, we have decided to increase the quota for Muslims, treating them as OBC (other backward class)," he said.
He dismissed allegations that his government was providing more reservation in the name of religion.
The BJP members opposed the bill, saying reservation for Muslims goes against the Constitution.
In the neighbouring southern state, 69% of the seats are reserved for SC, ST and OBC communities.
Party lawmakers trooped into the well of the House and shouted slogans, forcing legislative affairs minister T Harish Rao to move a motion to suspend them. Marshals escorted out the BJP members later.
Also, the bill sought to increase reservation for scheduled tribes from 6% to 10%. The combined increase takes the state's total reservations to 62%, way higher than cap prescribed by the Supreme Court in a landmark 1992 ruling.
The chief minister, called KCR by his supporters, was confident of getting the enhanced quotas legalised by incorporating them in the Ninth Schedule of the Constitution through a constitutional amendment.
It was done before for Tamil Nadu in 1994, where the overall quota for various groups in 69%, he argued.
The proposed law will require the state legislative council's nod, before it could be sent for the President's approval for inclusion in the Constitution's Ninth Schedule.
Rao said his party promised to provide 12% reservations to Muslims in its election manifesto. The hike compliments the promise.
Other opposition parties backed the bill. T Jeevan Reddy of the Congress welcomed it and said: "It's better late than never."
The All India Majlis-e-Ittehadul Muslimeen (AIMIM), a pro-Muslim party, suggested that the existing 4% reservation "under the BC (E) category" should be retained too.
A separate "BC(F) category" should be created to extend the benefits, the party said.
Personalise your news feed. Follow trending topics