Telangana starts free, 24-hour power supply to farmers
The electricity supply is crucial to farmers who use motorised pumps to irrigate their fields and largely depend on groundwater due to lack of canal irrigation.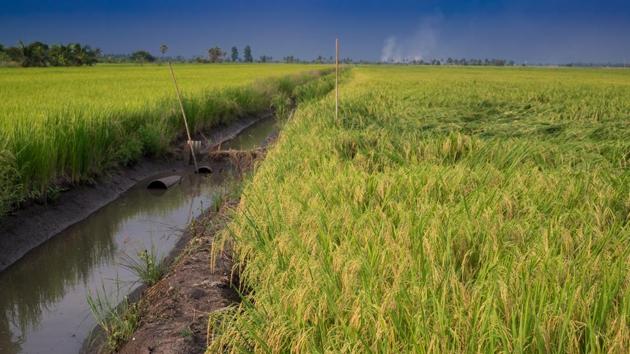 Updated on Jan 01, 2018 10:25 PM IST
The Telangana government on Monday launched a round-the-clock power supply to the state's 2.3 million farmers free of cost, but power experts and opposition parties said that the scheme might result in its misuse and large-scale exploitation of groundwater.
Transmission Corporation of Telangana Ltd's chairperson and managing director D Prabhakar Rao and Southern Discom MD Raghuma Reddy formally launched the scheme at Pothaipalli village of Shamirpet mandal in Medchal Malkajgiri district at 12.01am.
Telangana chief minister K Chandrasekhar Rao described the 24X7 agriculture power supply as a New Year's gift for the farmers of the state.
"Though certain states are supplying power to farmers free of cost, it is only for a few hours; and some states are giving 24-hour power supply but for a price. Telangana is the only state which is supplying power to farmers round the clock free of cost," he said.
The free power supply will now be available for 23 lakh agricultural pump sets.
According to Prabhakar Rao, the demand from the agriculture sector in January will be around 9,500 MW, which might go up to 11,000 MW by March.
"Our transmission and distribution system can bear the load up to 17,000 MW. We have strengthened the system at a cost of Rs 12,610 crore in the last three years," Rao said.
The electricity supply is crucial to farmers who use motorised pumps to irrigate their fields and largely depend on groundwater due to lack of canal irrigation.
Distribution companies at present are able to meet a maximum power demand of 9,500 MW to agriculture sector during peak hours of the day.
Transco officials have said that at least 1,500-2,000 MW of additional power is required to meet increasing demand and implement the free-power programme.
However, experts say the round-the-clock power supply scheme might prove counter-productive to the farming community rather than actually benefitting them.
"First of all, nobody has asked for a 24X7 power supply, since farmers do not need more than nine hours of quality power supply to the crops. Secondly, it will result in large-scale exploitation of groundwater resulting in its fast depletion," a senior official of the Southern Discom told the Hindustan Times on condition of anonymity.
"Thirdly, it will hit small and marginal farmers with small landholdings, as big farmers draw huge water using powerful pump sets," he added.
The official said if the power supply was given in phases it would help recharge the groundwater but if there is uninterrupted supply it will deplete faster. Since the power supply is free, there is absolutely no control on the exploitation of groundwater using agriculture pump sets, he added.
"Moreover, there is every possibility of misuse of the scheme by some big people by drawing water from agriculture pumps and selling the same in the areas of water scarcity through water tankers," he warned.
At present, almost all the agriculture pump sets are fitted with auto starters.
"When there was an uncertainty in the power supply in the past, these auto-starters used to help start the pump set whenever the power supply was restored. Now that there is an uninterrupted power supply, these auto-starters continue to run resulting in heavy power consumption," the Discom official said.
If the farmers do not remove the auto starters, the pump sets continue to draw the groundwater, resulting in its depletion, he added.
"The farmers are refusing to remove the auto-starters because if the government fails to continue to the 24X7 power supply scheme and returns to nine-hour supply, they cannot buy the auto-starters again and install them."
Telangana Pradesh Congress Committee farmers' cell president M Kodanda Reddy said the scheme was only politically motivated and would not serve the real purpose at all.
"What is the point in giving more power, when there is no groundwater?" Reddy asked.
According to sources in the Telangana groundwater department, its level witnessed an average rise of 4.46 metres below ground level (mgbl) by October end compared to May due to a normal rainfall in 17 districts of the southern state during monsoon.
"However, there are still some districts like Medak, which have registered very low groundwater levels. If the power supply is given round the clock, the water levels by the end of Rabi season in March would go down further," Reddy pointed out.
Close Story