The afterlife of VS Achuthanandan in a Pinarayi Kerala
Over the years, VS and Vijayan have created a sense of representing two streams of politics in Kerala. Or, they have at least given an impression of two types of political leadership within the Left. Such debates of leadership are not insignificant to the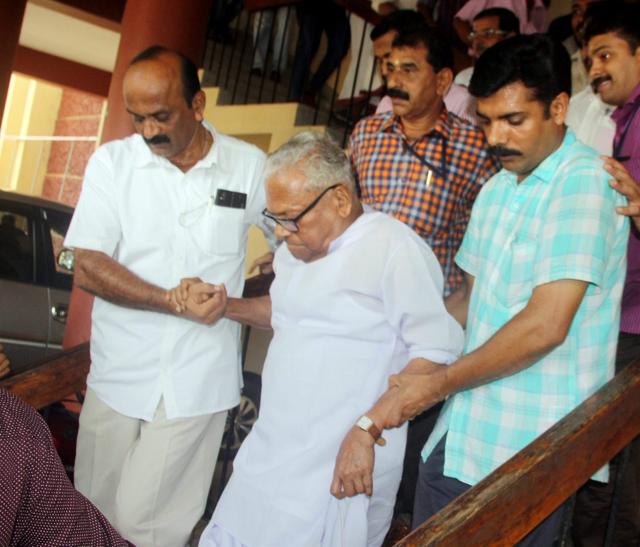 Updated on Jun 06, 2016 12:59 PM IST
By Thufail PT
, Thiruvananthapuram
VA Arun Kumar, son of CPI (M) veteran VS Achuthanandan, appeared too busy to strike up a conversation. He had just returned from a daylong house-hunting marathon in Thiruvananthapuram to Cantonment house, the official residence of the Opposition leader in Kerala. "We are looking to rent a house that is close to the main road, so that the people who come to meet him (VS) don't face any difficulty," he said.
Two days before that, the nonagenarian leader was called the "Fidel Castro of Kerala" by his party's general secretary Sitaram Yechury. This might have once been the biggest praise VS could hope for. But today, it came with a price. It shattered the hopes of his supporters that, after his party's thumping victory in the latest state elections, he would be moving from Cantonment House to Cliff House, the official residence of the chief minister.
Instead, Yechury declared the party's politburo member and VS' bete noire Pinarayi Vijayan as the chief minister designate. "Like Castro in Cuba today, VS will continue guiding and inspiring the party," Yechury said at the press conference in Thiruvananthapuram on May 20, as VS kept his silence.
Read: Left scrambles to placate VS in Kerala
At Cantonment House, VS was surrounded by supporters, including women and children. He was wearing a T-shirt and was about to leave for jogging. It's an improbable detail that someone like VS gets to after several lifetimes of playing politics: he had also worn a T-shirt when Vijayan­­ visited him to seek his blessings after Yechury's announcement. "VS knows that the photograph of Vijayan's visit would be on the front page of every newspaper. He must have worn a T-shirt deliberately to show that he's not as old as his party thinks. After all, VS is 92 and Vijayan is 72 years old. In the photo, Vijayan looked older than VS," a VS supporter joked. Yechury had cited VS' age and health for not considering him for the top post, though he called him "the war horse" who had led the Left Democratic Front (LDF) to victory with 91 seats in the state's 140 constituencies.
Over the years, VS and Vijayan have created a sense of representing two streams of politics in Kerala. Or, they have at least given an impression of two types of political leadership within the Left. Such debates of leadership are not insignificant to the Left, especially these days when its parties are facing a major ideological and political crisis after the electoral setbacks in West Bengal.
Read: Kerala CM Pinarayi's ad blitz raises eyebrows in Leftist circles
In Kerala, VS/Pinarayi has become a binary opposition similar to Mammootty/Mohanlal in the Malayalam film industry. Professional rivalry among public figures is a popular theme in Kerala's public discourse. It's not uncommon to hear conversations about the differences between writers MT Vasudevan Nair and T Padmanabhan, or how Yesudas suppressed fellow-singer Jayachandran. Even after 40 years of sharing the throne in the film industry, Mammootty is still asked by fans, "Mohanlalumayitt enganeya…? (What is it like between you and Mohanlal?)"
A former close aide of VS said that VS and Vijayan are of "different genus". "They may be rivals in politics," he told me. "But I have seen Pinarayi watching VS' steps with utmost care and affection when he walks."
According to supporters, VS' disappointment was evident in the statements he made after Vijayan's elevation. "Did you find anything wrong in me (during the campaign)? Do I look weak to you now?" he reportedly asked a group of students who visited him. During the run-up to the election, he had led more than 60 rallies across 13 districts in 13 days, travelling about 200 km a day. "I am perfectly fine. There is nothing wrong with my health," he told the students, which made headlines in the media. On May 21, VS stated that he would stand as the "sentinel" of the people of Kerala, which was widely interpreted as a warning to the new government under Vijayan.
There have been reports of the party considering various posts for VS, including that of an advisor to the government. A close VS aide told me that he has not responded to such an offer from the party, and he seems in no mood to end his struggle despite winning the elections. "I will continue the fight till the last breath," he has said. "As a communist, I had certain responsibilities to shoulder in this election. That is the reason why I decided to contest in the election as per the directive of the party's central leadership."
Read: Superstitious Communists? BJP says Kerala ministers refuse car no 13
The Malayala Manorama had photos of VS passing a note to Yechury at Vijayan's swearing-in ceremony. It outlined three possible posts for the veteran – advisor to the government with cabinet rank, chairman of the LDF or a member of the state secretariat.
Many people in the state – both inside and outside the party – believe it was VS' high voltage campaign that led the LDF to victory in Kerala. During the run-up to the elections, VS went all out against the Oommen Chandy-led UDF government. He turned offensive in his characteristic style against SNDP chief Vellappalli Nateshan, whose alliance with the NDA threatened to take away a large chunk of Ezhavas who form the CPI(M)'s largest voter base.
At his age, VS created a sensation with his various posts on his Facebook page. He launched his social media handles just before the elections, and rapidly acquired a huge following. He mocked the UDF's election slogan Valaranam ee nadu, thudaranam ee bharanam (This state should grow. This government should stay) by tweeting, Thadayanam ee kolla sanghathe, Rakshikkanam ee Nadine (These bandits should be stopped. This state should be saved). After PM Narendra Modi infamously compared Kerala to Somalia, VS promptly said, "Kerala is not Somalia. But Ommen Chandy and gang are as bad as Somalian pirates."
His campaign events yet again established that he is the biggest crowd-puller in the state, drawing massive numbers even in Vijayan's constituency Dharmadam. After all, the previous LDF government led by VS had lost the election in 2011 only by four seats. Many even believe that LDF would not have got its thumping majority this time had it projected Vijayan as the chief ministerial candidate. Congress' Kerala chief VM Sudheeran had even mocked the LDF's 2016 election slogan, LDF varum ellam shariyakum (LDF will arrive and everything will be alright) by saying that if the LDF comes to power, they should 'set right' VS first (LDF vannal adyam shariyakkuka VSne).
The Communist Party of India (CPI) formed the world's first democratically elected communist government in Kerala under EMS Namboodiripad's leadership in 1957. The party split and formed the CPI(M) in 1964. VS is the only surviving member of the 32 National Council members who left the CPI to form the CPI(M).
VS and Vijayan both come from humble backgrounds. VS worked as a tailor while Vijayan was a handloom weaver who emerged as a student leader from Kannur, a political hotspot in the state. VS began his political activism among agricultural workers and trade unions in his home district, Alappuzha. He was at the forefront of the famous Punnapra-Vayalar uprising in 1946, in which young communists rose up against the princely state of Travancore.
Both men are known for their political steadfastness. VS is a traditionalist who sticks to ideology, while Vijayan is considered an organisation man with more pragmatism in economic matters like development through private capital. VS often takes his fights from political circles to the courts; he once managed to get Kerala Congress (B) leader and former minister R Balakrishna Pillai convicted for corruption he had committed 20 years ago as the minister for electricity.
Vijayan can be equally sharp. He did not hesitate to question a Muslim cleric (in spite of the fact that the cleric's group, the All India Sunni Jamiyyathul Ulama, usually supports the LDF in elections) who launched a drive to build a mosque for a strand of hair that reportedly belonged to Prophet Mohammed. Vijayan dismissed the drive, and said one should focus on the Prophet's words rather than "a strand of removed hair that constituted body waste".
The most striking example of the VS-Vijayan binary was perhaps in how each responded to the brutal murder of CPI(M) rebel TP Chandrashekharan in 2012. Chandrashekharan, who had left the CPI(M) to form a splinter party called Revolutionary Marxist Party (RMP), was stabbed 51 times. Amidst a huge controversy over the CPI(M)'s alleged involvement in the killing, Vijayan called Chandrashekharan a "kulamkuthi" (one who goes against the clan) while VS described him as a "brave communist".
Read: Political hurdles, ghosts of hydel scam await new Kerala CM P Vijayan
During the VS government's famous Munnar demolition drive in 2007, where the government reclaimed many acres of land illegally occupied by resorts and real estate lobbies, Vijayan reportedly stood against the government's action. Both leaders were suspended by the party from its politburo due to their infighting over the Munnar issue in 2007. Both were eventually reinstated to the politburo, but VS was suspended once again in 2009 – and remains suspended till date.
Events like these have given VS a pro-people and pro-environment image, in stark contrast to Vijayan's reported friendship with business magnates. However, Vijayan has also built his own supporter base with his no-nonsense, iron-fisted attitude.
Vijayan might have become chief minister, but his headaches may just be starting. Despite being cleared of charges, he continues to face the spectre of the 1995 SNC Lavalin scam – the next hearing of which will come up in the Kerala high court on June 9. The case alleges that several ministers, including then-electricity minister Vijayan, caused financial losses of hundreds of crores to the Indian exchequer in a hydroelectric project contract awarded to the Canadian company SNC Lavlin. VS has frequently publicised the scandal, written to his party's leadership, and made public statements against Vijayan in this regard.
The latest reports suggest that the CPM politburo has decided to give VS a post in the state government with cabinet rank, but VS and Vijayan don't seem to have arrived at a compromise yet. It seems like Vijayan has found backing within the party, while VS has captured support in the wider world.
There are already reports of VS writing a letter to the state and central leadership of his party against Vijayan's controversial statement that the Mullaperiyar dam is not unsafe. On the decision of the new government to go ahead with the Athirappilli hydro-electric power project, VS stated that the CPI(M) government would not execute any anti-people project.
Many people believe VS must not be too happy with the LDF government's open call for corporate investments, and Vijayan's full-page ads on national newspapers ahead of his swearing-in ceremony. The infighting between Vjayan and VS is going to continue, and only time will say which way the party will ultimately move.
Many VS supporters describe him as the wall that stops the Left from leaning towards the right. His interventions have provided the Left with a roadmap in the post-globalised world, and his resoluteness is held as the correct way to resolve the party's ongoing ideological crisis. Some say they never expected VS to become chief minister at the age of 92. They even doubt whether the leader himself was sincere about getting the top seat. However, the way he has been sidelined is indicative of how the party is going to treat his kind of politics. And that should worry voters.
(In arrangement with GRIST Media)
Close Story