'This is a temple of democracy': LS speaker warns protesting MPs amid chaos
Updated on Jul 25, 2022 04:42 PM IST
Opposition MPs sloganeered and showed placards with messages on inflation, LPG price hike and others on Monday, demanding a discussion with the Centre on these issues.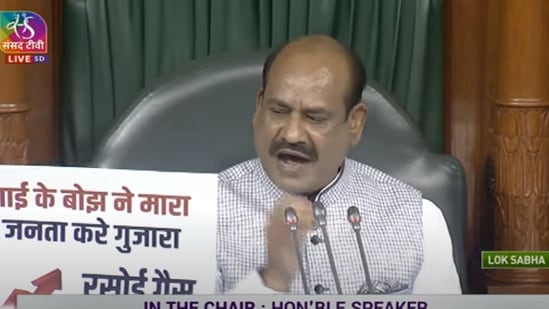 Written by Sharangee Dutta | Edited by Swati Bhasin
, New Delhi
As the monsoon session of Parliament entered the sixth day on Monday, demonstrations continued with opposition MPs sloganeering over inflation. Lok Sabha Speaker Om Birla gave a final warning to all protesting opposition MPs, asking them to "maintain the dignity of the House". "This is a temple of democracy, it is the responsibility of the members to maintain the dignity of the House," he was quoted as saying by news agency ANI.
He further stated that opposition MPs will be given an opportunity to raise their issues at 3pm, post which if they continue to stage protest, Birla will be "forced to take action" against them.
"The government is ready to hold discussions," he insisted.
Soon after, the news of four Congress MPs being suspended for the rest of the monsoon session arrived. These parliamentarians include Manickam Tagore, Ramya Haridas, Jothimani and TN Prathapan.
Lok Sabha has been adjourned for the day, and will resume at 11am tomorrow.
Parliament proceedings live updates here
During the pandemonium, opposition MPs were seen holding placards with messages on inflation, LPG price hike and others as Lok Sabha Speaker Birla tried to control the situation inside the Lower House of Parliament.
Ahead of the start of the monsoon session, an advisory was released that prohibited the distribution of leaflets, pamphlets or placards inside the Parliament. However, the opposition MPs have been ignoring this rule since the start of the monsoon session last week.
Birla has been repeatedly urging opposition MPs to not hold placards or resort to sloganeering, and rather discuss the issues they want to raise. On the second day of the monsoon session, the Lok Sabha Speaker chided opposition MPs for flashing placards by reminding them of the rule. The very next day (July 20), he once again requested them to stop the sloganeering, saying the "public wants the Parliament to work".
The opposition camp, meanwhile, has stated that the Centre is unwilling to address their demand of having a discussion on inflation, price rise, GST rate hike and LPG price increase. They have been staging protests outside the Parliament in front of Mahatma Gandhi's statue as well.
Last week, in unusual scenes, opposition MPs brought milk and curd packets with them to agitate against the price rise and GST hike on regular household items. Notably, Parliament proceedings saw a delayed start today (at 2pm) owing to the swearing in ceremony of India's 15th and first tribal woman President Droupadi Murmu. But disruptions followed soon afterwards.
Personalise your news feed. Follow trending topics