Centre-farm unions meeting cancelled, farmers say will discuss after draft proposal
Updated on Dec 09, 2020 11:25 AM IST
Bharatiya Kisan Union spokesperson Rakesh Tikait said that they will hold a meeting after the Centre sends the draft proposal and decide their next move thereafter.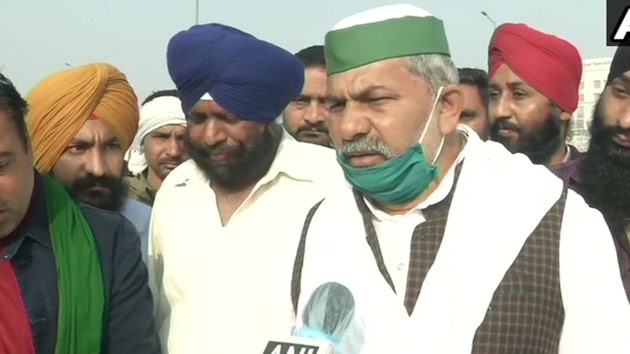 Hindustan Times, New Delhi |
hindustantimes.com | Edited by Kanishka Sarkar
As the farmers' protest against three agricultural laws has entered day 14, Bharatiya Kisan Union spokesperson Rakesh Tikait said their meeting with the central leadership on Wednesday stands cancelled and they will discuss and decide on their next move after the government shares with them the draft proposal with amendments in the contentious farm laws enacted in September. An official confirmed that the crucial sixth round of talks with protesting farmers' unions has been cancelled due to farm leaders' refusal to attend, according to news agency PTI.
"We'll hold a meeting over the draft that will be sent by the Centre. That meeting is cancelled. Draft will be discussed & further course of action will be decided. We hope things will be clear by 4-5 pm today," Tikait was quoted as saying by news agency ANI.
Also Read: Farmers' protests enter day 14, deadlock persists despite Amit Shah-farm unions' meet
The announcement comes a day after a group of 14 leaders of the agricultural community met Union minister Amit Shah to resolve the ongoing farmers' agitation triggered by agri laws that they say will hurt their incomes and benefit large corporations.
according to Hanan Mollah of the Kisan Sabha, Shah had said the government would propose amendments related to a fee structure in notified agriculture produce market committees (APMCs), stricter provisions to safeguard farmers' land rights, strengthening of notified markets, and a guarantee on minimum support prices (MSPs) in Wednesday's meeting.
Follow latest updates on farmers' protest here
The farmers, however, have demanded a complete rollback of the three legislations that the government pushed in September to deregulate farm markets and permit private traders to stockpile large quantities of essential commodities for future sales, which officials say will spur investments in supply chains.
Farmers say government-controlled notified markets will collapse due to competition from deregulated markets under the new laws, as trade in the latter will be free of any fees or service charges.
"The government is likely to present a plan spelling out specific measures to strengthen notified markets, such a fee structure so that both new free markets and notified markets can co-exist in a true competitive spirit," an official said.
Thousands of farmers, mainly from Punjab and Haryana, have been protesting against the legislations since November 26 when they launched their "Dilli Chalo' march following which several of the national capital's borders have been choked. They are protesting against the Farmers' Produce Trade and Commerce (Promotion and Facilitation) Act, 2020, the Farmers (Empowerment and Protection) Agreement on Price Assurance and Farm Services Act, 2020 and the Essential Commodities (Amendment) Act 2020.