Took drugs home in good faith, wanted to nab kingpin, says Nagaland cop
Hindustan Times, Guwahati |
, Guwahati
Sadiq Naqvi
Oct 22, 2018 12:08 AM IST
IGP Richard Yimto had taken home 6.9 kg of suspected brown sugar seized from two persons at the Khuzama inter-state border with Manipur on August 3.
A senior Indian Police Service (IPS) officer in Nagaland, who is being investigated for possessing seized drugs, has said that he took the consignment home from the police headquarters in good faith.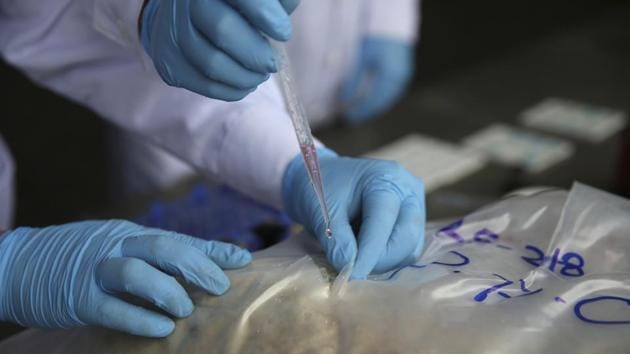 "I took them home in good faith for reasons of security. I wanted to nab the kingpin," Richard Yimto, inspector general of police, CID, told HT, in response to the show cause notice issued to him by the director general of police T John Longkumer.
Yimto has been on leave since mid-September.
On September 1, a team led by additional director general of police, Nagaland seized 6.9 kg of suspected brown sugar from Yimto's residence. A kilogram of brown sugar is estimated to have a street value of about ₹1 crore.
Yimto said the drugs were seized by a team led by a sub-inspector of the narcotics cell of the Nagaland Police at the Khuzama inter-state border with Manipur on August 3. The contraband was found in a car coming from Manipur and two persons were reportedly detained.
Strangely, no case was registered and Yimto did not send a sample of the drug seized for forensic test as required.
"No case was registered and the two persons were allowed to go with a promise that they will come back with the kingpin. They were just conduits. I told my subordinates to convey to them that the police would reward them," Yimto said, adding "unfortunately they did not come back".
Yimto claimed that the drug was initially kept at the store room of the narcotics cell at the state police headquarters till August 17 and then he decided to take it home, thinking it was not safe to them keep there.
"It was safe in my house as it has round the clock security," he said. Asked why the DGP was not informed in the intervening period of August 3 and 25, Yimto said, "I was very busy with official duties and official tours."
Additional director general of police Renchamo P Kikon who carried out the seizure and the preliminary enquiry in the incident said he will have to cross check if the drugs were initially kept at the store room.
Yimto said he wrote to the DGP on August 25 and then again on August 28 asking for directions on whether he should deposit the seizure back in the store room.
However, a week later, police came knocking on the officer's house. "Instead of any response, a police team came to my house and seized the drugs on September 1," he said.
Police chief Longkumer did not respond to a query asking if he was aware of the seizure and other details before August 25.
However, in a recent statement, Nagaland Police said "the matter was brought to the notice of the DGP on August 25 via a written explanatory note by the IG (CID) himself explaining the time lapse and non registration of case".
Against Corruption And Unabated Taxation (ACAUT) Nagaland on Friday sought clarification from Nagaland police. In a statement it questioned why the police officer has not been suspended.