Top cop who led probe in Asaram rape case received 2,000 threat letters, phone calls
Apr 25, 2018 05:59 PM IST
Ajay Pal Lamba was the deputy commissioner of police (DCP), Jodhpur West, when Asaram was accused of raping a minor at his ashram. While leading the investigation, Lamba didn't send his daughter to school for a while and his wife didn't step out of their house.
Senior police officer Ajay Pal Lamba received more than 2,000 threatening letters and hundreds of phone calls while he was overseeing the investigation in the rape case against self-styled godman Asaram.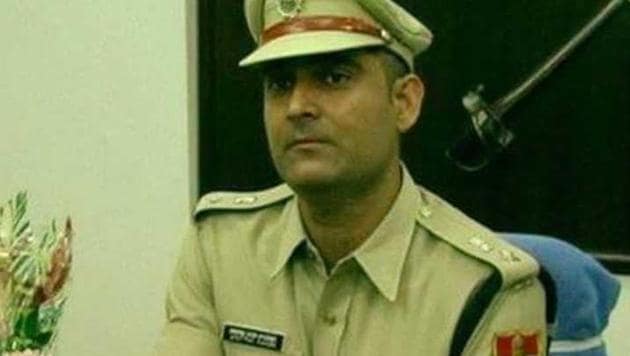 A special court in Rajasthan's Jodhpur on Wednesday convicted Asaram of raping a minor girl at his Jodhpur ashram in 2013. Asaram faces at least 10 years in jail; under the charges, he could be sentenced to life imprisonment. The quantum of sentence is yet to be pronounced.
Lamba says he was handed over the most high profile case of his career on August 20, 2013, that entailed relentless media spotlight, killing of witnesses and the most disturbing of all – the threats to policemen by Asaram's followers. He was the deputy commissioner of police (DCP), Jodhpur West, then.
"The letters carried abuses and threatened they would kill my family if anything happened to Asaram. My phone would not stop ringing and I stopped receiving calls from unknown numbers. The letters stopped only when I shifted to Udaipur," says Lamba, a 2005 batch Indian Police Service officer.
Lamba, now the superintendent of police (anti-corruption bureau) in Jodhpur, stopped sending his daughter to school for a while and his wife would not step out of their house.
He adds that one of the accused, arrested for killing a witness in the case, confessed that his next target was Chanchal Mishra, the then deputy superintendent of police with Jodhpur Police and investigating officer in the case.
The victim was 16 when she was raped by Asaram at his ashram in Jodhpur in August 2013. Her family filed a complaint in Delhi on August 20, 2013, after which Asaram was charged with rape, wrongful confinement, sexual harassment, trafficking, criminal intimidation and criminal conspiracy. The case was transferred to Jodhpur.
The investigating team, he says, filed its first chargesheet in the Asaram rape case in a little over 10 weeks.
"There was no political pressure of any kind but I felt that the longer the investigation is delayed, the more it tangles up," Lamba says.
In addition, the tricky part was picking up Asaram from his ashram in Indore as well as ensuring his supporters don't create a law and order situation in Jodhpur and establishing evidence against him as the first information report was lodged five days after the incident.
Asaram failed to appear before the team of policemen from Jodhpur and his arrest was a monumental task for the department.
"When my 11-member team went to deliver a summon notice to the Asaram at his ashram in Madhya Pradesh, they faced a mob of about 8,000 people. My team was shoved and it took them 10 hours just to be able to deliver that piece of paper," Lamba says.
Lamba says the media coverage dampened the morale of the supporters to an extent and the local police managed to take control of the situation in Indore. The police team from Jodhpur entered the ashram on August 30, 2013, to arrest him.
The 79-year-old Asaram was also booked under sections of the Protection of Children from Sexual Offences (POCSO) Act, 2012, and the Scheduled Castes and Tribes (Prevention of Atrocities) Act, 1989. He has been in the Jodhpur Central Jail for the last 56 months.
"He requested that he be taken by flight and the police agreed. During the night, he was talking to his kids in Sindhi and asked them to amass 25,000 of his supporters by morning. 'I'll see how they'll take me then', he said on the phone. One of my men understood Sindhi and his plan was foiled," Lamba says.
Asaram was brought to Jodhpur and put in a government guest house.
"When I entered the room, he was sitting on a sofa. I told him to get off and sit on the floor. The very moment he confessed that he made a mistake," Lamba says.
Multiple testimonies, the victim's statement and Asaram's potency test helped the team frame a watertight case, which Lamba believes resulted in Asaram's conviction.
Calling the conviction "historic", Lamba says the court's decision shows that "truth has won".
"It shows that if the law works impartially, even persons from the weakest sections of the society can take on the most influential ones and get justice," he says.