Translocation of cheetahs from Africa to Madhya Pradesh's Kuno delayed
Aug 10, 2022 02:18 PM IST
The delay comes as a dozen officers of the state forest department and experts from the Wildlife Institute of India were catching leopards over a 500-hectare area developed for cheetahs in Kuno
The translocation of cheetahs from Namibia to Madhya Pradesh's Kuno National Park on August 13 has been delayed by at least two more weeks, officials aware of the matter said.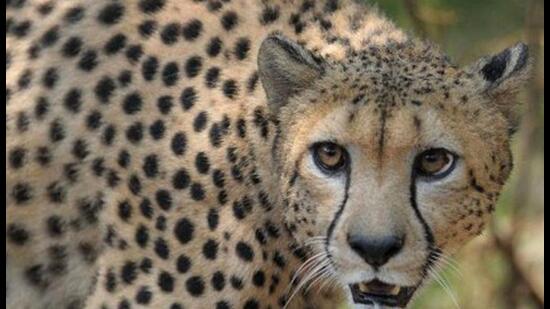 The delay comes as a dozen officers of the state forest department and experts from the Wildlife Institute of India were catching leopards over a 500- hectare area developed for cheetahs in Kuno. Officials have been able to catch two of the four leopards over two weeks.
A forest official said they would need another week to catch the leopards. "Now, along with a cage trap, we have laid a foot trap also. In the cage trap, leopards ate the bait at least thrice and manage to escape. Cameras have also been installed to track the leopards," said the official, requesting anonymity.
Principal chief conservator of forest (wildlife) JS Chauhan said they will soon relocate the leopards and if required, they will be tranquilised.
Two range officers, a divisional forest officer and forest guards have been deployed over the last two weeks to catch the leopards.
Officials said it will take at least two more weeks to complete the formalities for sending cheetahs to India.
Namibian environment ministry's chief public relation officer Romeo Muyunda said the permit to translocate cheetahs is still pending from both the countries. "India must provide Namibia with an import permit for us to prepare an export permit."
Adrian Tordiffe, a scientist at the University of Pretoria, which is overseeing the reintroduction of cheetahs in India, said they were waiting for the memorandum of understanding between India and South Africa. "More time is needed for some of the Namibian cheetahs as some of their animals need to complete their quarantine period. It is likely that translocation will be delayed by up to two weeks. Now, we are expecting translocation by the end of August."
New Delhi and Namibia in July signed an agreement for the relocation of the first batch of cheetahs, the world's fastest animal extinct in India since 1952.