Trees felling must for development, says Haryana's forest minister Rao Narbir Singh
Haryana forest minister Rao Narbir Singh talks about government's priorities and the environmental price state will have to pay for growth.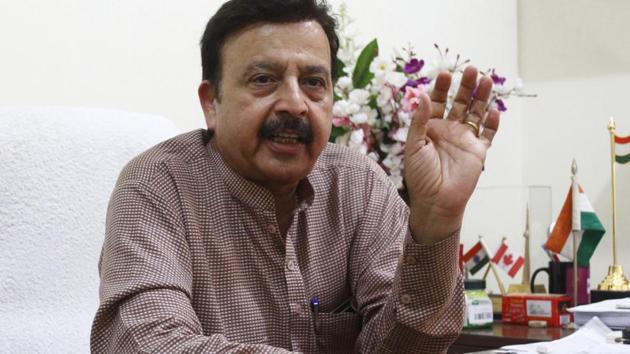 Updated on Jul 30, 2018 01:48 PM IST
Gurugram
A number of green activists and citizens protested on July 14, demanding withdrawal of the plan to fell about 1,400 trees in Gurugram to expand a road at the Atul Kataria Chowk and build an auditorium in Sector 4. They contended that there was no need for a flyover and an underpass in the area and traffic could be streamlined with some minor changes. Haryana forest and PWD minister Rao Narbir Singh, has however, reiterated that trees will have to make way for a wider road to ease traffic jams, and that the lost tree cover could always be compensated for by planting more trees.
In an interview with HT on Sunday, Singh spoke about the need for felling trees and the importance of people's participation to increase the green cover of Gurugram and the state:
Q: Activists are saying that there is no need for a flyover and an underpass at the Atul Kataria Chowk and felling about 1,400 trees can be averted by tweaking the plan.
A: Jahan vikas hoga, wahan pedon ka vinash zaruri hai (where developement takes place, destruction of trees is necessary). It is natural, it is the law of nature. Whichever country has progressed, there has been tree felling. A flyover and an underpass are a necessity at the Atul Kataria Chowk. Survey shows that there are heavy traffic jams at the stretch. The activists will feel the pinch when they get stuck in a traffic jam there. I say 1,000 trees should be planted instead of 100, but the flyover will be constructed. The department must strive to ensure that trees are not felled unnecessarily.
Q: According to the Forest Survey of India (FSI) 2017 report, Haryana's forest cover has grown minimally, just 0.02%. What are the reasons?
A: Haryana is a small state and majority area is agricultural land, leaving less space for forests. (The forest area in Haryana is 1,588 square km, which is 3.59% of the state's geographical area as compared to 21.54% at the national level). New roads, flyovers, railways and other projects are coming up for which trees have to be removed. We are trying to plant more trees, but the forest area is less.
Q: What efforts are being made to increase the forest or green cover?
A: We appeal to the people to plant at least two trees in their lifetime and take care of them. The need for this is higher in Gurugram as it will become difficult to breathe in the National Capital Region in near future if the green cover is not increased. The government has initiated a 'Paudhagiri' campaign. Through this statewide campaign, we aim to engage 25 lakh students, from classes 6 to 12, each of whom will plant a tree and take care of it. For this, they will get an incentive of ₹50 per year from the state government. The forest department will distribute plants to students and the education department will monitor the plantation. I also appeal to the people to go plastic-free and, at least, shun the use of polythene bags.
Q: Survival rate of planted trees is always questionable.
A: The forest department tries to monitor the planted trees, but here people's participation is also necessary. Trees should be planted as per capacity to maintain them and not just for the sake of showing numbers. We appeal to NGOs, civic bodies and resident welfare associations to adopt roads to plant trees and monitor their growth. This way, the green cover can be increased and sustained.
Q: There are frequent reports of tree felling in Aravalli forests.
A: Action is taken by the forest department whenever specific inputs are received. We have inducted two drones for monitoring such activities and mapping the forest area. Here also people's role is important in reporting such activities.
Close Story
Personalise your news feed. Follow trending topics