The stretch cuts across densely populated areas and hence, needs to be treated as a major city road with lower speed limits, said officials.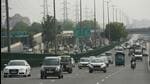 On spending a long evening in a city landmark

Chaudhary Sat Prakash Nain, who identified himself as the national president of the Hindu Suraksha Dal, posted a picture of two blank cheques with his tweet, asking the DCP, South, and the SHO, Bhondsi police station, to fill any amount and help him against cow smugglers.

Police identified the man as 33-year-old Tejpal Singh. Three of his friends and the swimming pool owner have been booked for negligence causing death.

The deceased, Shubhankar Bhadra, lived with his wife and children in Nathupur, DLF Phase 3. His mother-in-law and brother-in-law lived close by and would often visit them.