Tribal kids of Chhattisgarh's Bastar learn from their new teacher Alexa
The idea of introducing Alexa in the primary schools of Bastar was conceived by a Lohandiguda Block Education Officer (BEO) of the district.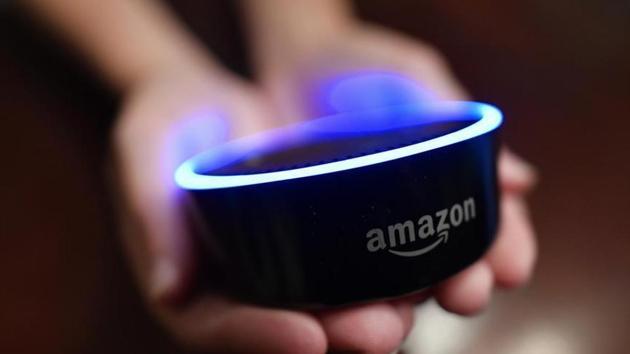 Updated on Mar 07, 2020 11:01 AM IST
For the tribal students of 40 primary schools in Bastar district of Chhattisgarh, Alexa, the Amazon virtual assistant, has become the new teacher — one who promptly and patiently answers all the question they throw at her.
The questions range from who the president of India is to the number of states in the Union, from the weather condition in Bastar to the speed of light and the distance between Earth and the sun.
"Alexa aunty answers our questions politely," said Manali Nagar, a Class 4 student of a primary school in Lohandiguda, a tehsil (administrative unit) in Bastar. "We are excited to reach school to interact with Alexa. We get prompt answers with explanations. We spend more than two hours with Alexa in the school every day."
Students in other schools said they tell their parents everyday about what Alexa has taught them during the day.
Alexa is a virtual assistant based on artificial intelligence technology developed by the Seattle-based Amazon Inc. It is capable of voice interaction with users, provides real-time information including the latest on the weather, traffic and news, and performs tasks ranging from setting the alarm to compiling to-do lists and controlling smart devices.
The idea of inducting Alexa in the primary schools of Bastar was conceived by Chandra Shekhar Yadav, Lohandiguda's block education officer (BEO).
"My brother gifted me Alexa and after using the device, I came to the conclusion that it can be used to teach the students of the region because, firstly, we lack enough primary teachers in this area and secondly, the device can answer any question, which enhances the quality of primary education," said Yadav.
Bastar has a chronic shortage of teachers because Maoist rebels are active in the region where no outsider wants to come to live and work.
According to government records, Bastar has only 554 teachers, about half the 1,143 posts sanctioned for the region. Bastar also has a student drop-out rate of 42% at the primary level and a literacy rate of 54.4% — the highest and lowest in Chhattisgarh, respectively.
To ensure quality education and reduce the drop-out rate, Yadav said he proposed that Alexa be introduced in 330 public schools under his jurisdiction. To start with, Alexa is being used in 40 primary schools.
Chief executive officer of Lohandiguda and probationary Indian Administrative Service office Abinash Mishra said the administration wants to use the best of technology as educational tools — not just Alexa or Apple's Siri or Microsoft's Cortana
"Firstly, we want to make the education process more interesting for students and reduce the gap between rich and poor and to provide the best-quality education to tribal students. Secondly, [we want to] to fill the gap of good faculties in schools, especially for science, technology and mathematics," said Mishra.
On the benefits of using Alexa, Mishra said children are naturally curious and tend to ask a lot of questions to which they want answers. "Technology can empower them to get answers to their questions. It has become so interactive… and here, Alexa is playing a big role," Mishra said.
Amazon officials, some of whom visited some schools in Bastar to make a documentary on the use of Alexa in education, declined comment on the grounds that they weren't authorised to speak to the media.
Close Story
Personalise your news feed. Follow trending topics