TTV Dhinakaran says Panneerselvam met him to topple Tamil Nadu govt, OPS says he's lying
O Panneerselvam conceded that he had met Dhinakaran last year but it was only on the latter's request.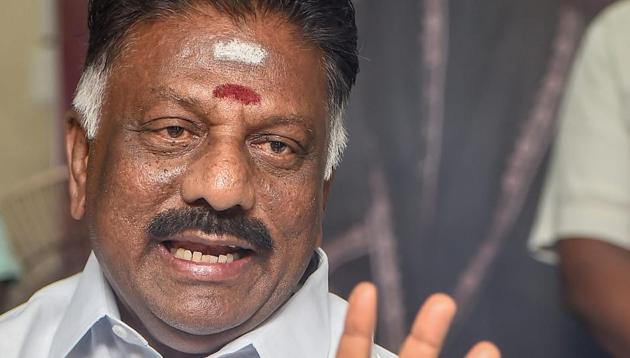 Updated on Oct 06, 2018 10:25 AM IST
Tamil Nadu deputy chief minister and AIADMK party coordinator O Panneerselvam on Friday acknowledged meeting the party's rebel leader TTV Dhinakaran in 2017 but rubbished the latter's claim that he sought his help to topple chief minister Edappadi K Palaniswamy.
Dhinakaran said Panneerselvam had met him in July last year and sent a word through a common friend that he wanted to meet him again in September-end this year.
The rebel leader claimed that Panneerselvam or OPS as he is popularly known as, met him on July 12, 2017, while he was protesting against VK Sasikala, a close aide of former CM Jayalalithaa and expressed his willingness to remove Palaniswamy or EPS.
"Since OPS approached me for a meeting, I met him in a private place on July 12, 2017 after consulting my supporters. We spoke for nearly 15 minutes. OPS expressed his willingness to merge his faction with mine to topple EPS's government. However, I did not give any concrete response. Unexpectedly, he later merged his faction with EPS' faction," Dhinakaran told HT.
He said that OPS had also approached him through a mediator late last month with the same objective to topple chief minister Palaniswamy's government.
"OPS's aide told me that the deputy CM was ready to join hands with me along with his supporters to oust the CM. Though the aide told me that OPS was ready to make me as CM, I refused to meet him. At the same time, he criticised our family members in a meeting at our hometown Mannargudi. So, I decided to expose the double-face of OPS to put a full stop to these things," Dhinakaran said.
Dhinakaran said he would never join hands with OPS and EPS.
"It will be like suicide. So, our faction never would join with OPS or EPS. However, we are open to accepting the cadre and party workers of AIADMK," he said.
OPS conceded that he had met Dhinakaran last year but it was only on the latter's request.
"Dhinakaran sent mediators to me more than 100 times for meeting me. Though EPS and Dhinakaran had a cordial relationship, the latter was subsequently ousted from the party. At that time, Dhinakaran had warned of toppling the government. As I didn't want to topple the government formed by Jayalalithaa, I met Dhinakaran on July 12, 2017. I did not even inform my supporters about the meeting. With Dhinakaran firm on toppling the government, I met EPS on August 21 before merging our factions," OPS said.
OPS also denied the rebel leader's claims that he sent a mediator for a meeting last month.
"Dhinakaran is telling lies because he failed in his attempts to topple the government. I never sent anyone to meet him in the last week of Septemebr. Since EPS and I are running a perfect government, Dhinakaran is spreading misinformation to create confusion in the party," the deputy CM said.
OPS found some support with electricity minister P Thangamani saying Dhinakaran wanted to merge his party Amma Makkal Munnetra Kazhagam (AMMK) with AIADMK.
"Dhinakaran sent mediators to us with a plea to merge his party AMMK with the AIADMK in June. However, we refused to do that," Thangamani.
But political observer Tharaasu Shyaam said Dhinakaran's claims could be a major blow to OPS.
"How could OPS meet Sasikala's loyalist secretly while revolting against her? OPS says that he did not inform about the meeting to his supporters. This could hurt the deputy CM's credibility," Shyaam said.
Close Story