Palaniswami said that when Stalin was leader of the opposition, he had mocked at him and his cabinet as "AIADMK picnic cabinet," as he had taken 3 of his ministers and government officials during his official visits abroad.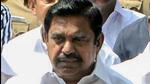 "The members violated party principles and brought disrespect to the AIADMK," the party said in a statement signed by joint coordinator Edappadi Palaniswami and coordinator O Panneerselvam, both former CMs.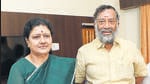 Tamil Nadu BJP president K Annamalai called the election results a "great victory", and said despite the party's loss, its vote percentage makes him "happy".

Written by Sharangee Dutta | Edited by Sohini Goswami
, New Delhi
Tamil Nadu urban local body Election 2022: Polls were conducted in a single phase for 12,838 posts.

Written by Harshit Sabarwal | Edited by Sohini Goswami
, New Delhi
The amended bylaws will strengthen norms to retain the present leadership structure of top two positions held by O Panneerselvam and K Palaniswami.