Rs 246 cr spent on training scheme for Kashmiris, only 10% get jobs
Six years after the launch of Udaan, only 10% candidates getting hired, and the nodal agency has been unable to keep track.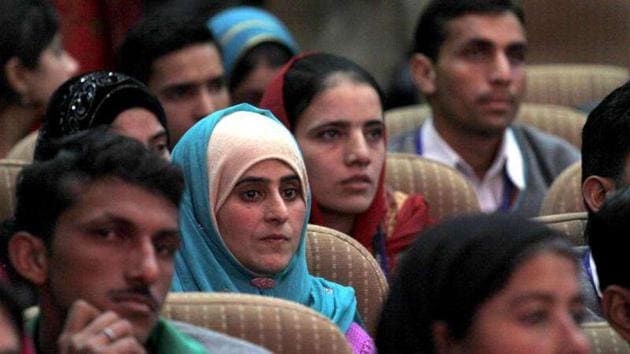 Updated on May 20, 2017 07:42 AM IST
Six years after New Delhi introduced Udaan, a flagship programme to provide Kashmiri youth with professional training and jobs, an HT investigation shows fewer than 10,000 people, or just over 10% of the target, were employed through a scheme riddled with corruption.
The low rate of success comes despite an expenditure of Rs 246 crore that the government gave private companies to cover accommodation, food and travel expenses of candidates.
Worse, of the 9,780 Kashmiri youths who received jobs under Udaan, it is unclear how many are still employed because the scheme's nodal agency, the National Skill Development Corporation (NSDC), eventually loses track of the beneficiaries.
"As mandated in Udaan guidelines, all candidates are tracked up to three months after they join the organisation," an NSDC spokesman wrote by email on condition of anonymity.
HT has also found instances of job offer letters being forged to claim money, and of humanities students being placed for training in technical subjects they knew little about. The NSDC spokesman said they hadn't come across any such complaints.
Udaan was introduced in 2011 as a goodwill gesture following mass protests in Kashmir the previous year. The scheme ran till last March.
The idea behind the scheme was to incentivise Indian corporations to visit Kashmir, meet with students and provide them with training and jobs. Under the scheme, private companies received Rs 1.35 lakh per candidate.
Though training was not covered, there was a reward of Rs 50,000 for organisations that arranged a job for a candidate. Grants were not made available to public enterprises, and perhaps as a result, of the 88 companies that participated in Udaan, all but five were privately owned.
The HT investigation, based on a memo received from the NSDC through the Right to Information Act, reveals that 31,903 candidates joined training as against a target of 90,000; 22,237 completed training; 14,694 were offered jobs and 9,780 accepted their offer.
The data indicated that 20% of the candidates and 50% of the job offers came only in the last three months of the scheme. The NSDC did not respond to HT's requests for more information about this last-minute jump in enrolment.
According to a senior official, some corporations intensified their efforts to take advantage of the government's grant before it was too late.
Last month, the government ordered an audit of the skill program Pradhan Mantri Kaushal Vikas Yojana (PMKVY) after HT questioned its claim of having trained about two million youth under the scheme.
HT's investigation of the Udaan scheme reveals issues as well. Students reported problems with some of the training and staffing institutes. "The general practice that a majority of companies follow is that they bring the candidates, give them accommodation and then leave them on their own. Training is just for the sake of it," says Muzamil Ahmad, one candidate who never received a job offer.
Udaan has been forced to rely on trainers more than big employers, resulting in, among other things, a paucity of jobs. The training company Prolific Systems and Technologies Private Limited, for instance, was given a target of 3,500 candidates, ended up training only 920, and connected only 410 to job offers.
Another trainer, Vision India Services Private Limited, was responsible for 1,750 candidates, only 30% of whom got jobs. For this, Vision received Rs 21.28 crore. Himanshu Kaushik, one of Vision's directors, blamed the company's low success rate on its inability to update its server.
HT met more than 50 students in National Capital Region (NCR) who alleged that companies' middlemen bring students from the Valley to various training institutes outside of the state to appropriate government grants.
"Some students have become institutes' agent and they get commission for bringing student to training centers," revealed one of the students enrolled under Udaan scheme. He said commission amount ranged from Rs 2,000 to Rs 5,000.
Close Story
Personalise your news feed. Follow trending topics