'Ukraine conflict has implications for countries across world': Top EU diplomat
Updated on Nov 23, 2022 07:33 PM IST
'We don't think it's a European war, we think it's a real game changer,' says top European Union (EU) diplomat Enrique Mora.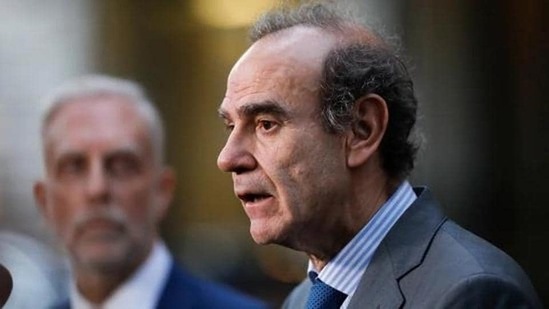 The Ukraine conflict is not just a "European war" as its fallout, combined with the "new configuration of power in China", has significant implications for countries across the world, a top European Union (EU) diplomat responsible for security issues said on Wednesday.
Enrique Mora, the EU deputy secretary general for political affairs, said in an exclusive interview that the 27-member bloc is keen to step up maritime security cooperation with India as part of efforts to increase its military presence in the Indo-Pacific. This includes the possible deployment of a European official at the Indian Navy's information fusion centre and joint naval patrols in regional waters.
Mora, a key aide to EU foreign policy chief Josep Borrell, was in New Delhi to co-chair India-EU foreign policy and security consultations on Tuesday. Following are excerpts from the interview, which has been edited for clarity.
Q. Could you give us a recap of the India-EU foreign policy and security consultations?
A. I have [met with] think tanks and distinguished former practitioners that are now at universities and think tanks. I saw deputy national security advisor Vikram Misri and G20 Sherpa Amitabh Kant. The main purpose of the visit was the political and security dialogue that we do on an annual basis. This year, obviously, it was going to be different because everything is different. It's clear the geopolitical environment we are working in has changed dramatically since February. I think we are still trying to come to terms with what exactly is the future.
I have the same impression everywhere I go – they tell me basically [that the Ukraine conflict] is a European war. It's a major thing because it involves a nuclear power and a permanent member of the UN Security Council...We don't think it's a European war, we think it's a real game changer. If you add to that picture the [Communist] party congress in China, the new configuration of power in China, [it] is not the same as before. When you change the configuration of power, it's because you want to change your policy...People think it will be the same, simply that [Chinese President] Xi Jinping will be more powerful. I'm sorry, that's not the case.
He [Xi] has done that for applying a different policy and he had already started, because if you look at the Politburo, there's practically no economists, something that was absolutely fundamental since the time of Deng Xiaoping, because the legitimacy of the party came through growth of 8% to 9% a year, taking people out of poverty. They took 500 million out of poverty...So these two things together, plus other regional developments, we are in a new world. So that's what I wanted to talk about to my counterpart, to secretary (West) Sanjay Verma, because India is a key player involving whatever position it is.
We went through bilateral relations. We are building step by step because it's not an easy thing. The European Union is a very difficult animal to take decisions, even in bilateral relations. On the other side, India is also difficult in the sense that you have very clear priorities...We devoted a lot of time in the consultations to the bilateral relationship, to the free trade agreement, to more cooperation on security and defence, which is something that in our case comes with the conviction that the world has changed, that we have to be more responsible for our own security. I got this strong impression that India is exactly in the same frame of mind, that now is the moment to be more autonomous. Then we talk about India's relationship with Russia in defence terms in the past. I'm no one to give advice but it's our strong impression in Europe that Russia is no longer a declining power, it's a collapsing power. If you want to trust your military procurement to an army which is being defeated and crushed by somebody much weaker...
Q. The G20 appeared divided on the Ukraine crisis, with many members condemning the war and others taking a different view.
A. Since the end of the Cold War in 1990, we had a huge conflict in Europe that lasted a decade and is still simmering, which was in the western Balkans, the collapse of former Yugoslavia. It was a horrible war, hundreds of thousands of people died, particularly in Bosnia...It lasted five full years, from 1990 to 1995. There is no peace, there is a sort of no war. That was a European war for European reasons, a typical identity politics European war. This is different – this is a great power, a nuclear power, a permanent member of the UN Security Council, which considers that it has to have areas of influence and when it doesn't get that through persuasion and threats, it goes to war for that. That can happen in Europe and that can happen anywhere if you accept the principle that there is such a thing as areas of influence.
What we are facing is a so-called superpower with nuclear weapons. They [Russia] still have 45,000 nuclear warheads. So, the difference is that a superpower has a vision of the world in which it has an area of influence...This is what [Russian President Vladimir] Putin is fighting for. This is what we are fighting against. This is not a European war, this is a principle.
Q. Is this something that you conveyed strongly to your Indian interlocutors?
A. I conveyed very strongly this is an existential threat for Europe. But again, the principle on which the war was inspired could happen where you find either a superpower or somebody who thinks that it is strong enough to have such a thing as an area of influence.
Q. Is there a solution in sight to the Ukraine crisis?
A. If [Putin] stops and he goes, it's over. The food security problem is over. The energy security problem is over. He invaded a country, so please stop the invasion and withdraw your troops. And the day after, no problem. But as long as he's occupying Ukraine, we will be with Ukraine. For Ukraine to recover its territory, its sovereignty, its full independence. We will be supporting Ukraine because we are fighting the same war. Ukraine has recovered only 45% of the land that was occupied after February 24. I don't think the Ukrainian mindset now is one of compromise, nobody will do that...Because Putin is threatening us, Putin has threatened us twice with weapons of mass destruction and the answer was...we reaffirm our policy, and on both occasions, he backtracked...If you blink before a nuclear threat, the world will be different.
Q. When you talk about security cooperation with India, the EU doesn't have its own armed forces. How do you plan to enhance cooperation in this sphere?
A. We have a common defence and security policy. We are trying to build something that I wouldn't call European defence, but something [like] capabilities for the European Union. Last August, for example, there was a naval exercise in the Gulf of Oman between a ship under a European flag and a ship of the Indian Navy. So these are the things we want to do more, such as port calls...We have many things that we can offer and at the same time we want to be useful to India. But we also want India to be useful to us in the sense that we have defined an Indo-Pacific policy. We have different strands to work on that policy and to implement it and a country like India is fundamental...We want to increase our military presence in the Indo-Pacific, we want to work on connectivity, on digital. All of them are chapters of this Indo-Pacific policy. But you are right in the sense that we cannot offer, obviously, what the United States can, but I think that the European defence industry can offer much more than the Russian defence industry. On that issue, frankly speaking, we can compete. And as far as I know, the last jet planes bought by India are European.
Q. The EU has been talking about joint production and joint development with India.
A. Exactly. You have "Make in India" that we have to discuss about. 99% is not really the useful standard when you share defence technology. The Americans, for example, [are] not willing to give more than 5% to 6% to a country...So you have to find some common ground and we will have to discuss that.
Q. What steps are India and the EU taking with regard to their Connectivity Partnership?
A. We are trying to go down from the text to practical things and to identify a couple of projects that we could do together. We have identified one railway project in Bangladesh and another one in Africa. It's early days...We have this Global Gateway Strategy, which is a 300-million-euro proposition, so it's substantial. We have to now break it down to specifics and identify concrete projects. Again, there is a Chinese dimension with that, obviously, because [of the Belt and Road Initiative]. I think by now many countries have discovered what's the real nature [of China-backed projects], not only in terms of debt, but in terms of building things that are not in the interest of the country, but in the interest of China.
Q. What is the latest on the India-EU trade and investment agreements?
A. We really want to go for that. India wants to go for it but it's not easy because you're a big country, a big economy...But what we were absolutely sure is that by the next summit next year, we should have something on that.
Q. What specific steps are being taken to enhance cooperation in cybersecurity, counter-terrorism and maritime security?
A. We are particularly interested in maritime security because it's one of our dimensions of deployment in the Indo-Pacific. We have offered practical things, like a European official could be assigned to the Indian Navy's Information Fusion Centre. The Indian side gave us an interesting idea on white shipping that was quite practical. We want two EU special representatives to come to Delhi and have long conversations with Indian counterparts on a coordinated maritime presence and on the Indo-Pacific.
We have two different possibilities for a maritime presence. We can coordinate the EU member states' presence or member states take a step forward and provide their ships under Operation Atalanta, for example.
Q. Will this be done under a different mission or under Operation Atalanta?
A. We are really thinking of flexibility under Operation Atalanta, since piracy in the waters off Somalia was solved long ago. Again, it's still under discussion.
Q. How does the EU intend to handle the relationship with China, whose behaviour across the region has become more assertive?
A. The European Council discussed its policy three months ago when the [Communist] party congress was starting and the conclusion was that we have to reaffirm this policy. This three-leg policy is working. Maybe we are now spending a bit more time on the systemic rival story than on the partnership story...but the policy is still valid because China is [a country that] we have to talk to, we have to trade with, we have to negotiate and coordinate with. So, this is our policy, these three approaches, but with the ultimate objective of having a full relationship. A different thing is that we are very dependent on China and China is very dependent on us. We [trade] every day, it's the most important trade relationship in the world...But what can be said for EU, can be said for India in the sense of what extent you are interdependent on China in economic terms. This is one thing we are looking at, because this is not always symmetrical.
Personalise your news feed. Follow trending topics