Una Dalit victims allege threatened by accused, police to register case
Apr 25, 2018 10:44 PM IST
Police said Sarviya family has been provided security cover that includes four armed guards and more forces will be deployed if required.
Two of the seven Dalits attacked by self-styled cow vigilantes in 2016 near Gujarat's Una town on Wednesday alleged that they were threatened to withdraw the case.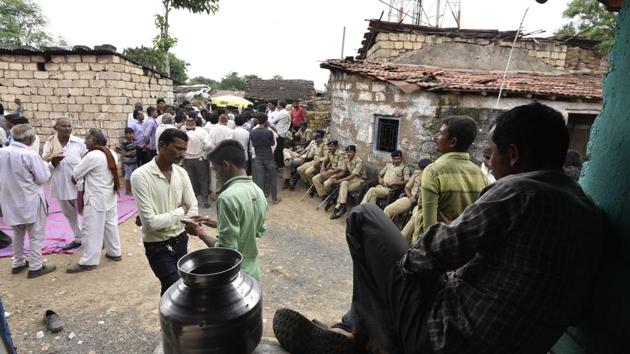 Ramesh Sarviya and Ashok Sarviya lodged an FIR with the Una police station saying that two men on a motorcyle armed with iron rods threatened them to withdraw the case.
The incident happened near Samter village near Una, from where 13 of the 46 accused in the case hail.
"Based on their complaint, the Una police is in the process of registering an FIR,'' Gir Somnath superintendent of police Hitesh Joysar said.
In July 2016 the vigilantes assaulted seven members of the Sarvaiya family, including Balu, his wife Kunvar, his sons Vasram and Ramesh, and relatives Ashok and Bechar in Samadhiyala village. Devarshi Banu came to the family's rescue was also assaulted. Later, the vigilantes tied Ramesh, Vasram, Ashok and Bechar to a car, and stripped, flogged and marched them half naked for about 25 km to Una.
Joysar said the Sarviya family, as per court orders, has been provided security cover that includes four armed guards. "If required, the security cover will be strengthened,''he added.
The family, however, maintained that the guards provide protection only while they are at home.
Later this month, the family is planning to embrace Buddhism to avoid discrimination.
Keval Rathod, a social activist and friend of the family, said, ``Many other dalits along with the Sarviya family will convert to Buddhism on April 29, on the occasion of Buddh Purnima''.