Budget 2023: Education gets highest ever allocation to overcome learning losses
Feb 03, 2023 02:27 PM IST
The Union Budget 2023 presented by finance minister Nirmala Sitharaman on Wednesday set aside ₹1.12 lakh crore for education – the highest ever and an increase of around 8.2% than what was pegged in 2022-23.
The Union government will re-envision teachers' training and develop institutes of excellence at district levels, and set up a national digital library to make available quality books across subjects to children and youngsters to help them overcome the learning losses suffered during the Covid-19 pandemic.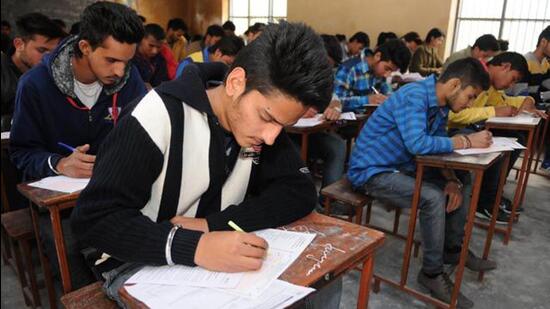 The Union Budget presented by finance minister Nirmala Sitharaman on Wednesday set aside ₹1.12 lakh crore for education — the highest ever and an increase of around 8.2% than what was pegged in 2022-23.
While the 2022-23 Budget estimate allocated ₹1,04,277.72 crore for the sector, the revised estimate curtailed it to ₹99,881.13 crore. This year's allocation is a 13% increase from the revised estimate.
Union education minister Dharmendra Pradhan lauded the Budget as inclusive, people-centric and growth-stimulating, and said the ministry was given the highest-ever allocation.
"By giving a boost to education, skill development, entrepreneurship, research and development, digital infrastructure, green growth and job creation, the Budget draws a meticulous blueprint for India at 100 and lays a solid foundation for transforming India into a technology-driven knowledge-based economy," he said.
In her Budget speech, Sitharaman said: "The national digital library for children and adolescents will be set up for facilitating (the) availability of quality books across geographies, languages, genres, and levels." The library, she added, will be device agnostic and accessible.
The Covid-19 pandemic, which hit the country in 2020, wreaked havoc on basic education due to closure of schools. According to the Annual Status of Education Report released on Wednesday, the basic reading ability of children dropped to pre-2012 levels. This was visible in most states and across genders.
The government had announced the setting up of a national digital university in its last Budget. The university is likely to start operations in June-July this year.
Sitharaman said states will also be urged to set up physical libraries at panchayat levels to provide infrastructure for accessing the national digital library resources.
She said the National Book Trust, the Children's Book Trust, and other sources will be encouraged to provide books and other study materials in English and regional languages to these physical libraries to build a culture of reading.
The physical libraries will make up for the learning loss due to the pandemic, Sitharaman said. "Collaborations with NGOs that work in the field of literacy will be encouraged to inculcate financial literacy. Financial sector regulators and organisations will be encouraged to provide age-appropriate reading material to these libraries," she said.
The finance minister said the teachers' training will be re-envisioned through innovative pedagogy, curriculum transaction, continuous professional development, etc. "The district institutes of education and training will be developed as vibrant institutes of excellence for this purpose," she said.
Sitharaman also announced the setting up of 100 laboratories in engineering institutes for developing applications using 5G services. "To realise the new range of opportunities, business models and employment potential, the labs will cover, among others, applications such as smart classrooms, precision farming, intelligent transport systems and healthcare application," she said.
Of the total outlay, ₹68,804.85 crore has been allocated for schools and ₹44,094.62 crore for higher education.
While the school Budget has witnessed an increase of 8%, from ₹63,449 crore (Budget estimate) in 2022-23, the allocation for higher education increased by 7.9%, from ₹40,828 crore (Budget estimate) in 2022-23.
The revised allocation for the school and higher education departments was kept at ₹59,052.78 crore and ₹40,828.35, respectively, in 2022-23.
The outlay for Samagra Shiksha Abhiyan, the central government's flagship programme for universal education, remained almost the same as last year ( ₹37,453.46 crore). The midday meal scheme, renamed as PM Poshan, saw an increase in allocation — from ₹10,233 crore in 2022-23 to ₹11,600 crore in 2023-24. However, the allocation for the scheme was increased to ₹12,800 in the revised Budget.
The Budget has also set aside ₹4,000 crore for the government's Pradhan Mantri Schools For Rising India (PM-SHRI) scheme, under which over 14,500 schools across the country will be upgraded as exemplary schools.
In higher education, the allocation of grants to central universities has risen to ₹11,528.90 crore from the revised estimate of ₹11,034.32 crore last year. While the monetary support to Indian Institutes of Technology (IITs) has increased by ₹316.5 crore, it has decreased in case of Indian Institutes of Managements (IIMs) by around ₹300 crore in comparison to last year.
The outlay for research and innovation has been pegged at ₹210.61 in 2023-24 in comparison to ₹218.66 crore in 2022-23. The revised allocation decreased to ₹185.24 crore in 2021-22.
The Budget document does not mention the allocation for Higher Education Funding Agency (HEFA). HEFA offers 10-year loans to higher education institutions for infrastructure development. The Budget for the agency was drastically trimmed to ₹1 lakh in 2022-23 from ₹1 crore in 2021-22.
University Grants Commission chairperson M Jagadesh Kumar said the increase in higher education budget will help in overcoming the learning losses during the Covid-19 pandemic and inject more digital technology for more access and equity.
"Increased fund allocation will accelerate the implementation of NEP 2020, bringing further dividends to the students to make them employable and strengthen our efforts in making India a knowledge-based economy," he said.
Educationists welcomed the initiatives announced in the Budget.
Jyoti Arora, principal of Delh's Mount Abu Public School, said the Budget perhaps mentioned teachers' training, capacity-building programmes and a culture of reading for the first time.
"As an educationist, it is highly encouraging to see the Budget's focus. The establishment of district training centres for educators will revolutionise both public and private school education across India," Arora said.
Arora also said that the setting up of the national digital library and physical libraries at the ward and panchayat levels is like a dream come true. "The National Book Trust has been entrusted with developing a reading culture by publishing content in several regional languages. This Budget will ensure the implementation of the National Education Policy, 2020, at the micro level. At the same time, we expected some measures to support nation-building private school education."
Dhuwarakha Sriram, chief of YuWaah (Unicef), said: "The government's recognition of the post-pandemic learning loss is a welcome move. The digital and physical infrastructure, particularly for the most marginalised young people in the hinterland, will help build higher student engagement and interest and make learning an easy process."