Uttar Pradesh: Woman police officer stands up to angry mob of BJP activists
Jun 26, 2017 11:54 AM IST
Syana circle officer Shrestha Thakur said she would relent only if the saffron party workers obtained written orders from the chief minister that "police have no powers to check vehicles".
The situation was tense at the district court compound in Uttar Pradesh's Bulandshahr on Friday, with several BJP activists shouting anti-police slogans to protest the action taken against one of their leaders. They, however, did not reckon on a woman police officer taking them head on.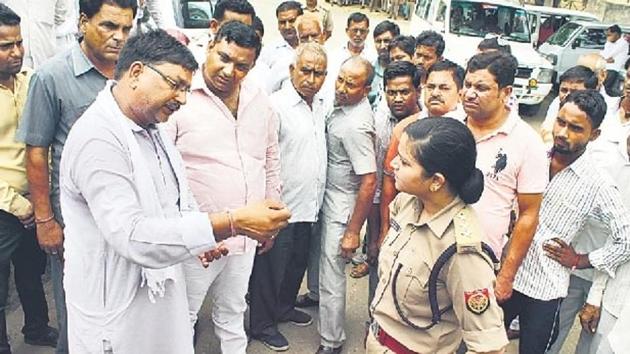 Syana circle officer Shrestha Thakur was sent by senior superintendent of police (SSP) G Muniraj to quell a mob of BJP activists that was trying to prevent Pramod Lodhi – the husband of a Zila Panchayat member – from being produced in court.
Lodhi was challaned for a traffic violation on Thursday, and later charged with assaulting a public servant.
A video of the heated conversation that went viral on the social media showed Thakur fearlessly facing off against the agitated crowd. "You please get orders in writing from the chief minister that the police have no powers to check vehicles," she told them, adding that law-enforcement personnel who stay awake all night to discharge their duties deserve more respect from political activists.
Thakur, a resident of Unnao, is an MBA graduate.
The ongoing confrontation between police and BJP workers began when Lodhi – found to be lacking in vehicular documentation – was challaned Rs 200 on Thursday. Saffron party activists claimed that police allegedly confiscated the keys to his vehicle and assaulted him repeatedly.
"A station house officer slapped Pramod 15 times before putting him in the lockup. He was later sent to jail. When Pramod was being taken to court, a few of us decided to question the police about the manner in which they were treating him. We did not misbehave with the police, but they slapped an FIR on us anyway," said BJP district president Himanshu Mittal.
Muniraj confirmed that an FIR has been filed against several people involved in Friday's incident. "The circle officer was sent to the court because the protesters were preventing police from producing Pramod Lodhi in court. The officer did her duty. It was after nearly 40 minutes that she was able to get the accused produced before the court," the SSP said.
However, the BJP district unit is in no mood to back down. "We have spoken to the deputy chief minister and a few others. The police have been given two days' time to investigate the issue and take action against the circle officer. If that does not happen, we will approach our state unit for further directions," said Mittal.