Veteran journalist Kuldip Nayar dies at 95, PM Modi pays tribute
Kuldip Nayyar died at around 12:30am at a private hospital, his elder son Sudhir Nayyar said.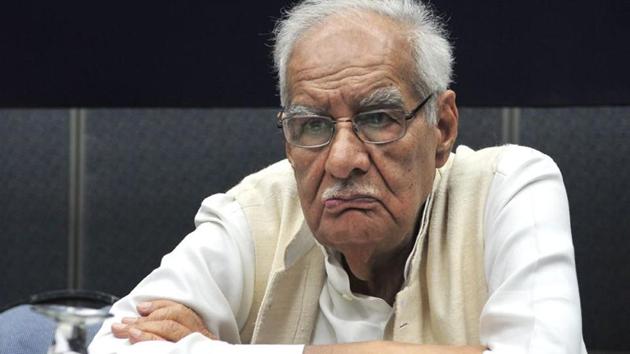 Updated on Aug 23, 2018 06:53 PM IST
New Delhi | By Press Trust of India
Eminent journalist and author Kuldip Nayar, who fiercely fought for press freedom and protecting civil liberties, passed away on Thursday. He was 95.
Nayar died at around 12.30 AM at the Escorts hospital, his elder son Sudhir Nayar said.
He was suffering from pneumonia and was admitted to the hospital five days back, Sudhir Nayar said.
The journalist is survived by his wife and two sons. His last rites will be performed at Lodhi crematorium at 1 PM.
Nayar, known as a crusader for civil rights and press freedom, worked in several newspapers including as the editor in the Statesman.
He had also served as the Indian High Commissioner to the United Kingdom in the 1990s and was nominated to the Rajya Sabha in 1997.
He was arrested during the Emergency.
Nayar was also known for his efforts to improve frosty relationship between India and Pakistan including leading peace activists to light candles on the Independence days of Pakistan and India at the Attari-Wagah border near Amritsar.
Prime Minister Narendra Modi condoled the demise of Nayar, saying his strong stand against the Emergency, public service and commitment to the country will always be remembered.
In a condolence letter to Nayar's wife, Bharti, Manmohan Singh wrote: "I have learnt with profound sorrow about the sad demise of your beloved husband. He served the country in various capacities with great distinction.
"He was a veteran journalist, diplomat, parliamentarian and author. He wore many hats in his decades of his public life... I write to convey to you and members of your family my heartfelt condolences on this sad occasion."
Editor of the Week magazine Sachidanand Murthy remembered Nayar's contribution in fiercely protecting press freedom and civil liberties.
"He had protested the infamous Defamation Bill which was brought by the Rajiv Gandhi government in late 1980s. He had also worked tirelessly to ensure protection of civil liberties in India," said Murthy.
The Defamation Bill was seen as an attempt to contain free speech in India. Following public outcry, the then government had withdrawn it.
Nayar had written a number of best sellers including 'Beyond the Lines: An Autobiography' and Between the Lines, a book on politics. Nayar was also one of the most respected syndicated columnist and his columns and op-eds were published in over 50 newspapers.
He was born in Pakistan's Sialkot in 1923 and he began his career in journalism in Urdu press.
Close Story