VHP threatens to stall Pathaan in Gujarat unless Hindu leaders approve it
Jan 13, 2023 02:21 PM IST
The CBFC in December asked Yash Raj Films to submit a revised version of Pathaan before its release after seeking changes in the film
The Vishwa Hindu Parishad (VHP) on Friday threatened to stall the screening of Shah Rukh Khan and Deepika Padukone's Pathaan in Gujarat unless the film is shown to Hindu religious leaders and they allow it to be released.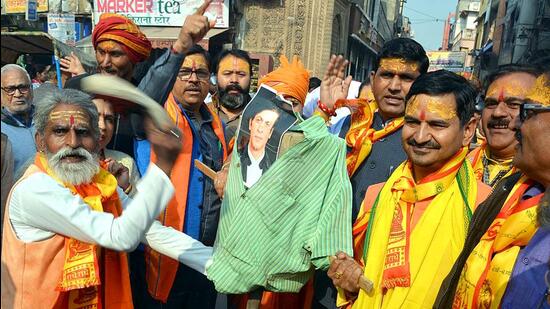 Groups like the VHP, an affiliate of the ruling Bharatiya Janata Party's ideological mentor Rashtriya Swayamsevak Sangh, have been up in arms since the release of the film's song Besharam Rang in which Padukone is dressed in a saffron bikini and dancing with Khan. Saffron is associated with Hinduism.
Hitndrasinh Rajput, a spokesperson for Gujarat VHP, said the Central Board of Film Certification (CBFC) cleared the movie earlier and questioned how could they rely on what has been censored or not.
The CBFC in December asked Yash Raj Films to submit a revised version of Pathaan before its release after seeking changes in the film, including its songs, to strike a balance between "audience sensibilities and creative expression". This came amid calls for a boycott of the spy thriller over the Besharam Rang song-and-dance sequence in the movie.
Rajput said they held a protest rally in Ahmedabad on Wednesday night. "We will not allow the film to be released in Gujarat. We have no interest in watching the movie but if the filmmakers want to release it here, they should arrange a screening for us...Hindu religious leaders will watch and decide. Else, we will not allow it to be screened in Gujarat."
Rajput said they have reached out to the theatre owners in Gujarat and warned them against releasing the movie. He asked the makers of the film to remove "objectionable parts" that hurt Hindu sentiments.
Pathaan is scheduled to be released on January 25 ahead of the Republic Day weekend.
Members of Bajrang Dal, VHP's youth wing, this month vandalised a mall housing a multiplex in Ahmedabad and tore posters of Pathaan. In a video VHP shared, they can be heard shouting slogans and damaging property at the mall.