Vinay Kwatra, Victoria Nuland review India-US relations at annual meeting
Jan 31, 2023 09:25 PM IST
The annual india-US foreign office consultations were an opportunity to continue discussions held during Kwatra's visit to the US last October, the external affairs ministry said
NEW DELHI: India and the US on Tuesday assessed developments in South Asia and the Indian Ocean region and reiterated their commitment to a free and inclusive Indo-Pacific to ensure regional peace and stability.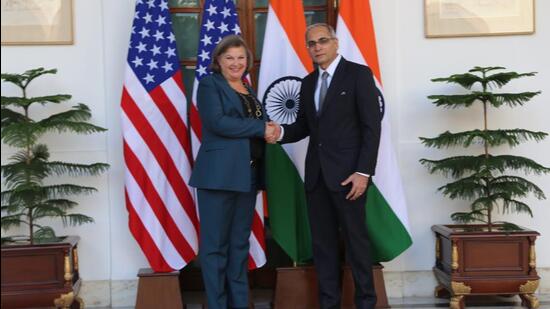 These issues were part of the annual India-US foreign office consultations in New Delhi that were co-chaired by foreign secretary Vinay Kwatra and US under secretary of state for political affairs Victoria Nuland.
The consultations were an opportunity to continue discussions held during Kwatra's visit to the US last October, the external affairs ministry said in a statement. "Both sides reviewed progress made towards further consolidating the India-US Comprehensive Global Strategic Partnership," it said.
The discussions covered "contemporary regional developments in South Asia, Indian Ocean Region and the Indo-Pacific", and the two sides "reiterated their commitment to a free, open and inclusive Indo-Pacific, with the objective of ensuring peace, stability and prosperity in the region".
Kwatra and Nuland took stock of several initiatives and frameworks that reflect common strategic interests, including the Quadrilateral Security Dialogue or Quad, the India-Israel-US-UAE (I2U2) grouping, Indo-Pacific Economic Framework (IPEF) and Indo-Pacific Maritime Domain Awareness Initiative (IPMDA), the statement said without giving details.
Both sides also agreed to work together during India's G20 presidency and to intensify cooperation in multilateral forums and international organisations, including the UN, on global issues of mutual interest.
"The productive and substantive meeting enabled both sides to continue a regular dialogue that has been instrumental in enhancing mutual understanding and in identification of opportunities for further growth and enrichment of the India-US partnership," the statement said.
The meeting was held against the backdrop of continuing concerns in India and the US over China's assertive actions across the region.
Nuland is travelling to Nepal, India, Sri Lanka and Qatar from January 28 to February 3. She will also meet with young tech leaders in New Delhi.