Watch: Bihar IAS officer abuses in meeting, 'deputy collector hai...'
Feb 02, 2023 02:36 PM IST
Senior IAS officer KK Pathak was seen hurling cuss words one after another targetting the deputy collector in the viral video of an administrative meeting.
Bihar excise principal secretary KK Pathak was caught on camera hurling abuses in an official meeting as he was livid over people of the city not following traffic rules. The video went viral as the senior IAS officer used expletives aimed at the deputy collector. "In Chennai, people follow rules. Have you ever seen anyone here following the traffic rules? They will keep honking even if there is a red light. Have you not seen this? People here are like that only. Laal light bhi hai, pe pe bhi karega...the situation of the deputy collector is this..." the infuriated IAS officer said adding that more on this will be discussed on 13th.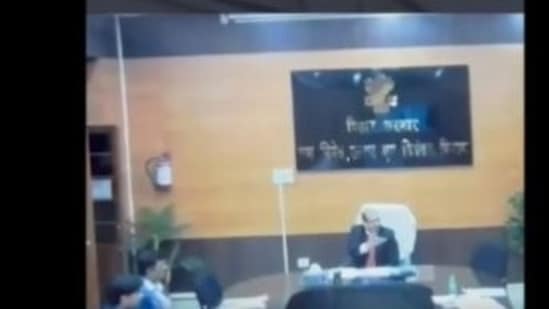 Watch (Note: The video contains some of the abuses)
Bihar excise minister Sunil Kumar said he has heard about the video of his department's IAS abusing in an official meeting. Necessary action will be taken against him, the minister said.
The association of the Bihar administrative services demanded the removal of Pathak for his behaviour. "We demand the government to sack such an officer. We have decided to register an FIR against him. He used abusive words for us which is wrong. We condemn it," Sunil Tiwari, general secretary, Bihar Administrative Services Association, said to ANI.
KK Pathak is a 1990-batch IAS officer known for his strictness. Originally from UP, Pathak was brought back to Bihar from his Delhi posting in 2015 when the alliance formed the government in Bihar. He was given the excise department posting again in 2021.