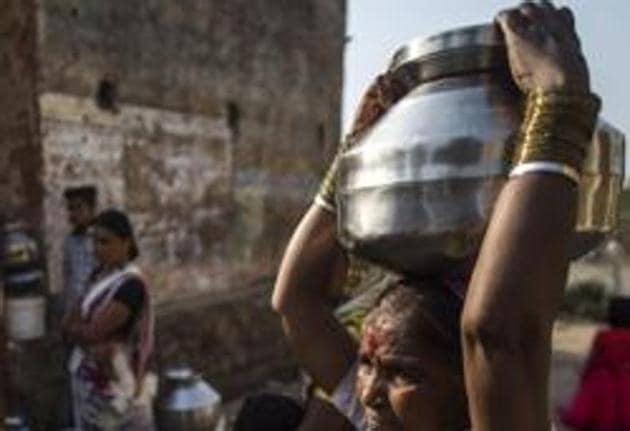 Water from Ulhas river not fit for drinking: Lab report
The rivers supply drinking water to more than 30 lakh residents in Ulhasnagar, Thane, Kalyan, Badlapur and Dombivli.
PUBLISHED ON APR 21, 2019 07:31 AM IST
A quality analysis conducted by the Thane district public health laboratory has revealed that water from Waldhuni and Ulhas rivers is highly polluted and unfit for drinking. The findings of the study come less than a week after the Supreme Court (SC) slammed the state for failing to reduce pollution levels in both rivers.
The report further stated that the water has a "reddish brown appearance and objectionable odour".
The rivers supply drinking water to more than 30 lakh residents in Ulhasnagar, Thane, Kalyan, Badlapur and Dombivli.
In March, activist Satyajit Burman collected the samples near the Forest naka area in Ambernath, from where the water is pumped out for drinking. "It is a crime to supply this water to lakhs of residents and put our lives at stake," said Burman.
"Turbidity, chlorides, hardness and dissolved solids were many times above the safety standards (see box), while the pH level was acidic. Water from these rivers have chemicals and needs to be critically analysed by the Maharashtra Pollution Control Board (MPCB)," read the report, undersigned by the laboratory's chief bacteriologist.
DB Patil, regional officer, MPCB Kalyan, confirmed that water from the Waldhuni is not potable. He claimed residents are being supplied with drinking water only from Ulhas river. "The pollution is occurring from creek water entering the Waldhuni. We are working on a 17.5-km pipeline from Ambernath to purify the river and have asked civic bodies of Ulhasnagar, Ambernath, Kalyan-Dombivli and Badlapur to follow the SC's directions," Patil said.
After environment group Vanashakti filed a special leave petition, the SC on April 18 stated the rivers are highly-polluted owing to sewage and industrial waste and directed the state to apprise the court by July 17 about the status of compliance of the court's previous directions.
"We have taken cognisance of SC's directions. On Tuesday, we have scheduled a meeting with the civic bodies to take stock of the situation. Officials will be questioned about the quality status," said Anil Diggikar, principal secretary (environment).
Kalyan-Dombivli civic chief Govind Bodke said all corporations were following SC's directions to reduce water pollution. "Water quality has improved with installation of sewage treatment plants at several problem areas. Funds have been sanctioned to ensure overall compliance before the next SC hearing," he said.
Close