Water system key to prosperity in ancient Vadnagar in harsh climate conditions, finds ASI
ASI has since 2014-15 excavated around 54 water bodies representing the mechanism within a 10km radius in Vadnagar.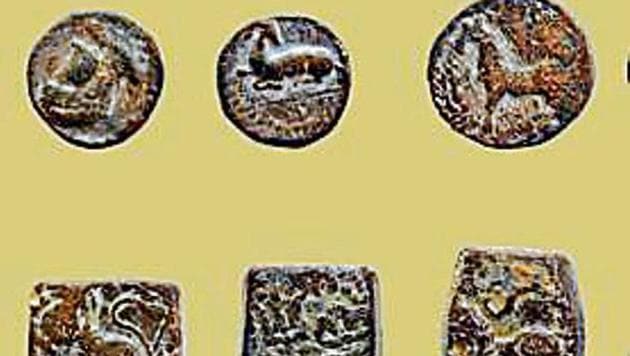 Updated on Jun 17, 2019 07:51 PM IST
New Delhi | By Amrita Madhukalya
A water harvesting mechanism could have been the key to sustenance and prosperity of Gujarat's Vadnagar when cities were abandoned because of harsh climate across the country between the 4-5th century AD and 10th century AD, Archaeological Survey of India (ASI)'s excavations have found in Prime Minister Narendra Modi's home town.
The ASI has since 2014-15 excavated around 54 water bodies representing the mechanism within a 10km radius in Vadnagar. The system could have helped the town's inhabitants survive during the time when paleoclimate studies have shown weather was not conducive with marginal rainfall and mass drought across the country. Vadnagar, where excavations have been going on since '14-15, is one of the few towns from that era to have survived, findings from the site have shown. Since excavations began, Buddhist settlements, evidence of a thriving township and coins have been found
ASI's excavation branch-V deputy superintending archaeologist, Abhijit Ambekar, who has been carrying out excavations in Vadnagar, said the water system was different from the one found at Harappan-era sites.
"The water storage system was at the city's periphery along a fortification wall and spread across a large area unlike what is seen at Dholavira [a Harappan-era site in Gujarat]. This helped agriculture thrive, making Vadnagar a prosperous town and led to the spread of Buddhism around it, as evidence shows," said Ambekar.
He said there is archaeological evidence of 54 water bodies even as the Ain-i-Akbari, which documents Mughal emperor Akbar's reign in the 16th century, mentions over 360 of them in Vadnagar.
In addition to the water system, coins of 28 varieties dating back to six different periods found in Vadnagar corroborate the findings about the town's prosperity. Motifs such as Garuda, trishul, three-arched hill, floral patterns, deer, and animals feature on the coins.
Save for one coin without any carvings, Ambekar said the coins belong to the site's Rampart (from 2nd Century BC to 1st Century AD), Kshatrapa (1st to 4th Century AD), Post-Kshtrapa (5th to 10th Century AD), Sultanate-Mughal (14th to 17th Century AD) and Gaekwad periods (from 18th to 19th Century AD).
Further evidence related to pre-Rampart and Solanki periods, such as a fortification wall and a shell-bangle manufacturing unit with intricately-designed shell bangles have been found earlier at the site.
The findings show the town's prosperity peaked during the 4th-5th century AD and extended to the Solanki era (11th-13th century AD), which is known as Gujarat's golden period.
Ambekar said Vadnagar's prosperity and eminence were known in places as far as China. He added legendary Chinese traveller Hiuen Tsang, who visited India in the 7th century, has mentioned Vadnagar. "In his travelogues, Hiuen Tsang mentioned Vadnagar as a rich establishment which is densely populated and is without a chief ruler but is part of Malava," Ambekar said.
Amol Kulkarni, assistant keeper at the History Museum at the Department of History & Ancient Indian Culture, Dr. Babasaheb Ambedkar Marathwada University, Aurangabad, says that the prosperity in Vadnagar extended to more than just economic areas. "The economic prosperity extended to cultural, religious and political areas, and it is one of the regions where Buddhism thrived in India at a period when it was on a general decline around the country," said Kulkarni.
Vadnagar has been found to have continuously been populated for 2,500 years and prompted the extension of excavations in November 2018 to the nearby hill town of Taranga and around a water body at Gunja.
ASI's findings early this year show Taranga was one of western India's largest Buddhist establishments around 8th-9th century AD. It had 64 rock shelters for Buddhist monks to live along with 50 votive stupas and a prayer hall, which was continuously used for over 500 years.
Ambekar said the rock shelters are natural and not man-made like in Ajanta and Ellora Caves. "With just minimal changes, the monks lived in these rock dwellings which were situated on the outskirts of the city. The emergence of Vadnagar as a power centre led to the thriving of Buddhist activities which grew due to the region's kind donations,'' said Ambekar.
He added the natural dwellings surrounding a temple of goddess Tara atop a hill on the town's outskirts. "This led to the naming of the town as Tarapur which later became Taranga," said Ambekar.
At Gunja, which is close to a water body called Dakshin Talao, a temple made of bricks and stones has been found.
Kulkarni says that despite the general drought conditions around the country, the harvest conditions in Vadnagar made it a major trade centre. "During this time, in India centrealised power systems were giving way to local powers, and Vadnagar became one such power. The water system sustained the region and led to its prosperity, and it is important to note because the people knew how to use resources," he said.
The ASI now plans to stop excavations at the site, and will file a report on the cultural sequence of the region and findings in a report soon.
Close Story