We will expel every infiltrator after winning 2019 election, says Amit Shah
Updated on Nov 01, 2018 08:49 PM IST
BJP national president Amit Shah is on a two-day tour to the state beginning Sunday, as per the BJP leaders.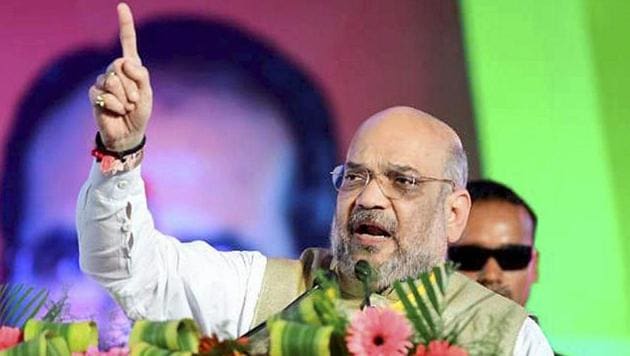 BJP national president Amit Shah alleged on Sunday that infiltrators were the vote bank for the Congress, Samajwadi Party (SP) and the Bahujan Samaj Party (BSP). But for the BJP it was an issue of national security. He added that the BJP government will expel every infiltrator from the country after winning the 2019 Lok Sabha election.
Shah was addressing a BJP's booth level workers meeting at Hoshangabad, 70 kilometers south of Bhopal. He is on a two-day tour to Madhya Pradesh.
He said, "Mai MP ki janata ko vachan dene aaya hun. Aap 18 aur 19 ka chunav jeeta dijiye. 2019 ka chunav jeetne ke baad desh me se ek ek ghuspaithiye ko chun chun kar bahar nikaalane ka kaam BJP ki sarkar karegi (I have come here to make a promise to the people of Madhya Pradesh. You elect the BJP in 2018 assembly and 2019 Lok Sabha elections. After 2019 elections the BJP government will expel from the country each and every infiltrator)."
Speaking about the government's efforts to release the National Register of Citizens (NRC) in Assam, Shah said the BJP had identified 40 lakh infiltrators in the state but Congress leaders like Digvijaya Singh and Rahul Gandhi were asking what they (infiltrators) would eat and drink.
He made an appeal to the party workers to ensure a massive victory of the party in poll-bound states including Madhya Pradesh, Chhattisgarh, Rajasthan in 2018, he added that the party win all the elections in the next 50 years from panchayat to the parliament.
"BJP is the biggest party in the world with 11 crore members, it started its journey in 1950 with just 11 members. The party's growth could be possible due to several party leaders and workers' sacrifices. Still party workers were killed in West Bengal and Kerala. The party workers of entire country are looking at you for a massive victory in Madhya Pradesh," said Shah.
Polling for the 230-seat state assembly in Madhya Pradesh is to be held on November 28 and counting of votes will take place on December 11.
Reacting to Shah's speech, state Congress spokesperson Bhupendra Gupta said those who had got sensitive airbase of the country inspected by the ISI should not talk about the national security. The Congress had always done what was required to be done for the country's internal security.
Congress president Rahul Gandhi will be on a two-day election campaign in Gwalior-Chambal region in the state on October 15 and 16, as per Madhya Pradesh Congress Committee.
According to state Congress spokesperson Pankaj Chaturvedi, during his two-day tour Rahul Gandhi accompanied by state Congress president Kamal Nath and election campaign committee chief Jyotiraditya Scindia will address six public meetings and hold two roadshows while campaigning for the party in Gwalior, Datia, Sheopur and Morena districts.
Close Story
Personalise your news feed. Follow trending topics