While you were away: Top stories to bring you up to date
Updated on May 25, 2017 07:30 AM IST
A news digest of the major stories that happened in the last 24 hours.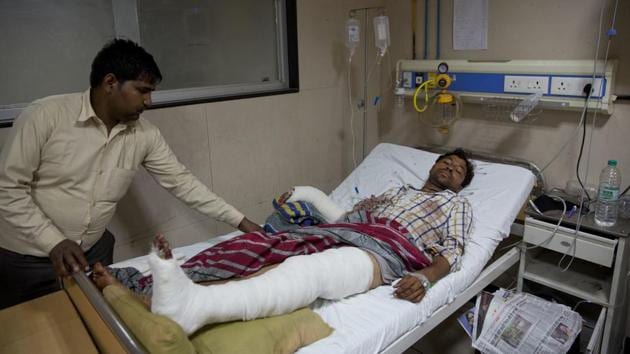 From internet services withdrawn from tense Saharanpur to suicide bombers kill policemen in Jakarta to Kashmir's political parties condemning army major in the human shield row. Here are the top stories to bring you up to date:
1- Saharanpur violence: DM and senior cop suspended, internet services withdrawn over Dalit-Thakur clashes
The Uttar Pradesh government on Wednesday withdrew internet services in Saharanpur and suspended the district magistrate and police chief as it grappled to contain caste clashes that have killed two people and injured scores since May 5. Two men were shot at in different places during the day and another person was assaulted by unidentified people. Officials said chief minister Yogi Adityanath ordered the suspension of district magistrate NP Singh and senior superintendent of police SC Dubey for their failure to contain the clashes. PK Pandey was appointed as the new DM, Bablu Kumar will take charge as the district police chief.
Read the story here.
2- Indonesia: Two suspected suicide bombers kill three police officers in Jakarta
Two suspected suicide bombers killed three Indonesian police officers and injured 10 people on Wednesday night in twin blasts near a bus station in the eastern part of the capital, police said. The blasts went off five minutes apart at Jakarta's Kampung Melayu terminal, police said. National Police spokesman Setyo Wasisto said three officers had been killed, and that examination of the scene had shown that there appeared to have been two suicide bombers, not one as originally thought.
Read the story here.
3- Uncertainty over Class 12 results continues: CBSE likely to challenge HC order on moderation policy in Supreme Court
The announcement of CBSE's Class 12 exam results could be delayed as the board will challenge a Delhi high court order asking it to continue with a marking policy that it decided to nix last month. The country's biggest school board decided on Wednesday to file a "special leave petition" in the Supreme Court against the high court verdict. The results are expected between 25-27 May but the board's appeal in the top court is unlikely to be filed before Saturday, sources said. Read the story here.
4- Union Cabinet scraps investment board to speed up foreign capital flows
The Union cabinet on Wednesday cleared a proposal to scrap the decades-old Foreign Investment Promotion Board (FIPB), which will facilitate easier capital inflows into India, finance minister Arun Jaitley said. "After liberalisation of the FDI regime, about 90% of the foreign investments are coming through the automatic route," Jaitley said at a media briefing. Only 11 sectors now require approval through the FIPB, he said. The FIPB, which is now part of the finance ministry, is manned by senior officials from various ministries.
Read the story here.
5- Army free to take decisions in Jammu and Kashmir: Arun Jaitley
Army officers are free to take decisions in a "war-like" zone, Defence Minister Arun Jaitley said on Wednesday, referring to the situation in Jammu and Kashmir, a day after the Army went public
on fire assaults on Pakistani posts along the LoC. "Well, military solutions are to be provided by military officers. How a situation is to be dealt with when you are in a war-like zone... we should allow our army officers to take a decision. "They don't have to consult members of Parliament as to what they should do under such circumstances," he said.
Read the story here.
6- 350 Indian fishermen convicted by Pakistan court, to be repatriated
A Pakistani court has sentenced 350 Indian fishermen for fishing inside the country's territorial waters after they entered a guilty plea and ordered their repatriation, according to a media report. The court took a lenient view and convicted the fishermen for a period they have already spent in detention and also directed the jail authorities to approach the department concerned to make arrangements for their repatriation.
Read the story here.
7- Human shield row: Kashmir parties condemn Army major's defence in a single voice
All the major mainstream and separatist political organisations in Kashmir, including the ruling People's Democratic Party (PDP), have condemned Army major Leetul Gogoi's defence for using a Kashmir resident as a human shield against stone pelters last month. State education minister Altaf Bukhari said Gogoi's act was condemnable. The women's wing of the National Conference took out a protest rally in Srinagar against rewarding Gogoi for his "unconscionable act of using Dar as a human shield". Separatist leaders also condemned Gogoi's action.
Read the story here.
8- Rethink CBI probe into highways scam or we'll rethink projects: Gadkari to Uttarakhand
Union roads minister Nitin Gadkari cautioned last month that he might be forced to "re-examine" all new projects in Uttarakhand if the state government led by Trivendra Singh Rawat doesn't reconsider its order for a CBI probe into a national highways scam. For his part, Rawat said on Tuesday his government will not withdraw the decision. The conflicting stands of the BJP-led Union and state governments could disrupt and delay highway projects in Uttarakhand.
Read the story here.
9- Prachanda resigns as Nepal Prime Minister while addressing nation on TV
Pushpa Kamal Dahal 'Prachanda', the Maoist rebel-turned-politician, resigned as Nepal Prime Minister on Wednesday, paving the way for Nepali Congress President Sher Bahadur Deuba to form the next government as per their agreement last year. Prachanda, 62, who led a decade-long insurgency before entering politics, announced his resignation during a televised address. For the time being, Prachanda will lead a caretaker government till 70-year-old Deuba gets parliament approval to form the new administration, which will be the 25th in 27 years.
Read the story here.
10- Manchester attacker Salman Abedi's father, brother arrested in Libya
The father and the younger brother of the suicide bomber who killed 22 people at a concert venue in Manchester have been arrested in Tripoli, a spokesman for a local counter-terrorism force said on Wednesday. The counter-terrorism force detained the father, Ramadan Abedi, outside his home in the Tripoli suburb of Ayn Zara on Wednesday afternoon. A witness said he was handcuffed by armed men who drove him away in two unmarked vehicles.
Read the story here.
11- If you want to lessen your chances of getting cancer, better cut down on belly fat
Besides high body mass index (BMI), individuals with increased belly fat may be at a greater risk of developing cancer, including of the breast and bowel, especially in older adults, researchers have warned. Being overweight or obese is the single biggest preventable cause of cancer after smoking.
Read the story here.
Personalise your news feed. Follow trending topics