WHO's Astana Declaration stresses on moving from disease treatment to health promotion
Updated on Oct 25, 2018 01:53 PM IST
The Astana Declaration of the World Health Organisation (WHO) marks the 40th anniversary of the historical Alma Alta Declaration that declared health a human right for all and not just a privileged few.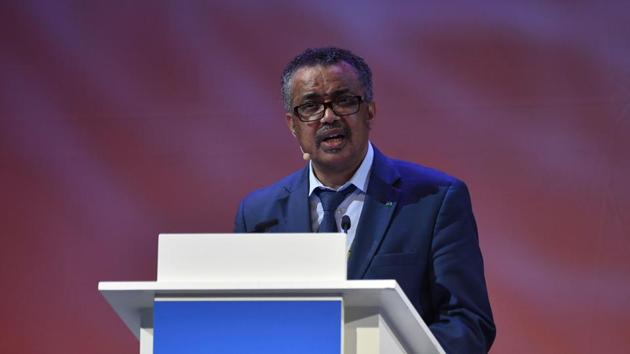 A multi-sectoral action that includes technology, scientific and traditional knowledge, along with well-trained and compensated health professionals, and people and community participation is needed to strengthen primary health care and provide quality "health for all", the World Health Organisation said in its Astana Declaration on Primary Health Care released in the Kazakhstan capital on Thursday.
The Astana Declaration marks the 40th anniversary of the historical Alma Alta Declaration that declared health a human right for all and not just a privileged few, and urged the world to make primary health care the mainstay of universal health coverage in 1978, in what was then the Soviet Union.
Forty years on, almost half the world's population lacks access to essential health services, and 100 million people are pushed into poverty because of catastrophic health expenditure each year. Primary health care can provide 80-90% of a person's healthcare needs in their lifetime.
"We must acknowledge that we haven't achieved that vision. Instead of health of all, we have achieved health for some. On the one hand, we have made enormous progress. Over the past 40 years, life expectancy has increased, maternal mortality and child mortality have halved, we have turned the tide on HIV, malaria deaths have halved... we can list many successes, but progress has been uneven and unfair between countries and within countries.," said Dr Tedros Adhanom Ghebreyesus, director general, World Health Organisation.
"We have been too focused on fighting specific disease, too focussed on treatment at the expense of preventing diseases. We must recommit to making primary health care as the foundation of universal healthcare... Health is not a political toy, it must be used for advancing health, not impending it," he said.
The declaration, which has all 194 WHO member states on board, including India, urges countries to use high-quality, safe, effective and affordable medicines, including "appropriate" traditional medicines, vaccines, diagnostics and other technologies to improve access to health while "protecting personal data".
Primary health centres must provide a comprehensive range of services and care, "including but not limited to vaccination", said the declaration, which marks a move away from targeted health programmes that work in silos to an integrated health approach.
It underlines the growing need for prevention, control and management of non-communicable diseases like diabetes and heart disease, among others, which now account for more years of ill health and deaths in most parts of the world, including in India.
For the first time, a health declaration acknowledged the need to "create decent work and appropriate compensation for health workers" working at the primary health care level and invest in the education, training, recruitment, development, motivation and retention of the workforce, with an appropriate skill mix.
It said countries must strive for the retention and availability of the PHC workforce in rural, remote and less developed areas and not allow international migration of health personnel to undermine developing countries' ability to meet the health needs of their populations.
"We will prioritise disease prevention and health promotion and will aim to meet all people's health needs across the life course through comprehensive preventive, promotive, curative, rehabilitative services and palliative care," said the statement, while asking countries to increase investments in human, technological, financial and information resources in primary health care to ensure health services and continuum of care reach the needy.