Captain Amarinder Singh has no problems with Sidhu's TV shows if law permits | Interview
On his first visit to Delhi after taking over as the chief minister of Punjab, Captain Amarinder Singh on the need for naming of his successor in the last year of his term and important matters confronting his state.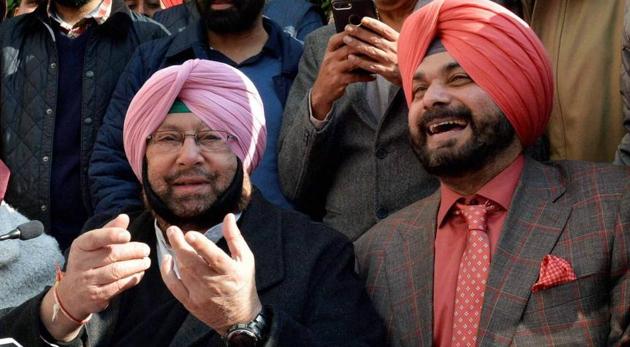 Updated on Mar 22, 2017 12:23 PM IST
Hindustan Times |
Vinod Sharma and Aurangzeb Naqshbandi
On his first visit to Delhi after taking over as the chief minister of Punjab, Captain Amarinder Singh spoke to Vinod Sharma and Aurangzeb Naqshbandi on several issues, including the need for naming of his successor in the last year of his term and important matters confronting his state.
What is the state of Punjab's economy?
It is in total shambles. We are a deficit economy and revenue is not going up. We have to take some radical decisions to bring things back on track.
Can we expect a white paper on Punjab's finances? How do you fulfil with an empty exchequer promises such as loan waivers to farmers?
The total cost of loan waiver to farmers is Rs 30,000 crore. We are not giving loan waiver on construction of houses on their farms. This is only the cash credit provided for growing crops, buying fertilisers and oil. I have already told the chief secretary that we want a white paper on the entire finances of the state. They must have started working on it. I hope it will be done soon.
Financial assistance by the Centre may be necessary to deliver on promises and kick-start the economy. Will you raise the issue in your meetings with Prime Minister Narendra Modi and finance minister Arun Jaitley?
These will be my courtesy calls to President Pranab Mukherjee, the Prime Minister, finance minister and others. I had a very warm and cordial relationship with the then former PM Atal Bihari Vajpayee when I was the chief minister for the first time. I expect same support with this government now.
In due course, you may need the Centre's support given that the NDA government has already promised financial assistance to Uttar Pradesh. The Prime Minister talked about cooperative federalism, do you think it can start from Punjab?
Yes it can start. But coming to the PM's loan waiver announcement to UP, we met the Prime Minister in Delhi under our vice-president Rahul Gandhi's leadership and talked about the loan waiver. The PM said he would look into it. Now that he has made the announcement in UP, I expect he will cover the other states as well and Punjab will get some contribution. Now going back to loans, there are three types of loans. There is cooperative loan, there is loan from commission agents and thirdly from centralised banks. When industry can have an understanding with banks for one-time settlement, so can we on behalf of our farmers. We can take it on ourselves, contribute whatever is the interest amount and finally have a settlement and pay back in instalments.
The construction of SYL is another sticky question. You are opposed to it but the Supreme Court may direct you to start the construction of the canal when the case comes up for hearing on March 28. What if that happens?
For the last 10 years, we have been saying that we can't build the canal but you have to give reasons for that. We will explain our position to the Supreme Court and that will be different from what we have taken so far. Let's take the first reason. When Punjab and Haryana were formed under the Reorganisation Act of 1966, everything was shared 60:40 including land, water, personnel and buildings, etc. So Ravi, Beas and Sutlej waters came 60% to Punjab and 40 % to Haryana. They never covered the Yamuna waters. As of today, Haryana has 40% land and 12 million acre feet of water and Punjab has 60% land with 8 million acre feet of water. What should have been challenged is the Punjab Reorganisation Act which was never done. These issues will have to be raised.
The war against drugs is one of your main promises. Will IPS officer Harpreet Sidhu, who you have chosen to lead the fight, have a free hand to go after wrong-doers?
I had said four weeks after taking over. I have already constituted a special task force headed by Harpreet Sidhu. His mandate is very simple. He has to perform and break the back of the chitta (synthetic drug) business. I want this done in four weeks. Let me tell you, whoever is named by his committee will not be spared. Regardless of who it is, they will have to pay the price.
What is your policy for rehabilitation of drug victims?
All states have to be on board with the common objective of checking supply of various types of drugs. All our 22 districts have rehabilitation centres. Now, I am hoping that we can go in for private public partnership to run these centres.
You have said you will seek legal advice on Navjot Singh Sidhu's desire to continue with his TV shows while being a minister. Have you heard from your advisers on the issue yet?
I don't know what the Constitution says in this matter. As Manpreet Singh Badal said it's like saying that a farmer cannot use the income coming from his crop. Why shouldn't Mr Sidhu do his own business? I have sought an opinion on the matter from the advocate general.
And if it legally permissible, you have no problem?
No…no, not at all. You have to live. I cannot say you cut off your income and become corrupt.
Who is your number two in the cabinet? Mr Brahm Mohindra or Navjot Singh Sidhu?
It is Brahm Mohindra. He is our sixth time MLA. He is the senior-most. You go by the seniority.
You said this is your last tenure as CM. Would a successor be chosen during your tenure?
I don't mind someone coming and start working with me, eventually taking over the reins in the next election. That way you are again projecting your next CM. That is the right thing to do.
So, you would be willing to groom your successor during your tenure?
Absolutely, there's no problem at all. It is done all over the world. Here, we do things at the last minute and that does not work.
At what stage in your tenure should that happen?
I think last year and the person should be indicated that he is going to be the next chief ministerial candidate.
Coming to the national politics, do you see a revival of Congress happening anytime soon given its worst ever performance in Uttar Pradesh and Uttarakhand?
I'll tell you something. It is the social media that is making a great impact on young minds and 70% of India is under the age of 40. I think what the Congress party has to do and what we tried but could not succeed. The social media of Aam Aadmi Party was the best and they wove such a wonderful net that even I started wondering that they seem to be very strong. Akalis were number two and we (Congress) were number three. I think we have to get strong on social media and connect with the young minds. Also, you will see people making fun of Rahul Gandhi on social media and that is unfair. I have worked with him. He is very open and supportive. What more do you want from your leadership? If the Congress party responds on the social media, I think we can penetrate into the young minds and make an impact.
What do think of the collective leadership in states? Does Congress lack regional leaders?
I think the Congress president and the vice-president will have to decide who will lead the party and who is going to be your chief ministerial candidate in states. People want to know who is going to be your chief minister. I think the party should give that person a chance to blossom. There are plenty of regional leaders in Congress. We have good people everywhere.
You gave credit for Punjab victory to Prashant Kishor? What about Uttar Pradesh and Uttarakhand?
Prashant worked with us for one year and he created a team of 1,700 people in the field who were working all the time. In the case of UP and Uttarakhand, he was given just one month.
Do you think he should be retained by the Congress?
Well, he has done a great job for me. It is up to them to decide whether they require him in other states. I think he would do a great job for other states but give him time.
Is it the time for Rahul to take over as the Congress president and should Priyanka help in organisational matters?
Of course, I have been saying that for a long time now. Rahul and Priyanka will complement each other and work together very well.
Do you favour a grand alliance to take on Modi and the BJP in the next general election?
I have a view on this matter which I will give to the Congress Working Committee whenever it meets.
Close Story