Congress should name my successor in my tenure: Punjab CM Captain Amarinder Singh
Captain Amarinder had declared at the outset that the just concluded elections were his last. He wants his successor to be named by the Congress high command during his tenure as chief minister for a smooth transition on his retirement from politics.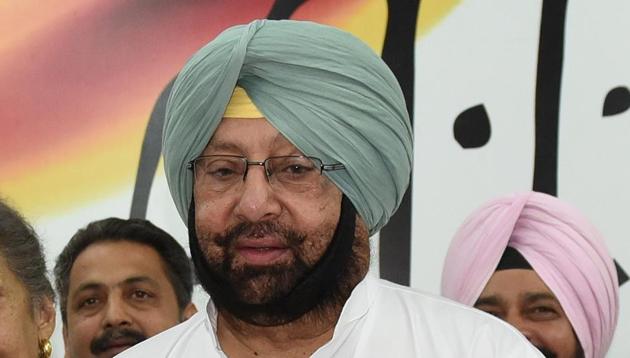 Updated on Mar 22, 2017 12:26 PM IST
Hindustan Times, New Delhi | By Vinod Sharma and Aurangzeb Naqshbandi
Captain Amarinder Singh is of the view the Congress high command should nominate his successor during his tenure as chief minister for a smooth transition on his retirement from politics.
The 75-year-old CM had declared at the outset that the just concluded elections were his last. He said his successor could be projected in the final year of his five-year term.
Even nationally, the Congress will be better off talent-spotting and encouraging leaders in states, he remarked.
"I don't mind someone coming and start working with me, eventually taking over the reins before the next elections. Because that way you are again projecting your next CM. That is the right thing to do," he said.
To a question whether he'd be happy doing that, Singh told Hindustan Times in an exclusive interview: "Absolutely no problems at all. This is done all over the world. Here we do things at the last minute and that does not work."
While on the issue, he let it be known that six-time Congress MLA Brahm Mohindra was his number-two in the cabinet.
Personally, he had no objection to his Local Bodies and Tourism Minister Navjot Singh Sidhu doing TV shows if that was permissible under law.
"One has to live. I cannot say you cut off your income and become corrupt. Why shouldn't Sidhu do his own business," he said, reaffirming the final call on the subject would be based on the opinion tendered by the advocate general.
On Punjab's finances, Singh said the state's exchequer was in total shambles. Radical steps were needed to bring things back on the track, he continued.
The CM further said his government was planning a white paper on the state of the economy.
On the Congress's promise of waiving farm loans, he placed the figure for Punjab at Rs 30,000 crore. In the same context he recalled a meeting a Rahul Gandhi-led delegation had with Prime Minister Narendra Modi on farmers' issues before elections.
Singh who continues to be the state PCC chief is slated to meet President Pranab Mukherjee, PM Modi and finance minister Arun Jaitley during his visit here. Without going into details, he drew a parallel with the centre's promised assistance to Uttar Pradesh for carrying out loan waivers the BJP promised.
He placed farm loans in Punjab in three categories: cooperative loans, loans from private lenders and centralized banks. "When industry can have an understanding with banks for one-time settlement, so can we on behalf of our farmers," he argued. The state government could contribute the interest amount: "once we have a settlement we'd pay back in instalments."
On the sticky SYL canal question on which the Supreme Court is likely to give an order on March 28, he said his government will give the Court the reasons for not building the canal. When Punjab and Haryana were formed under the Reorganization Act of 1966, everything was shared 60:40 including land and water. So Ravi Beas and Sutlej waters came 60% to Punjab and 40% to Haryana.
That the Yamuna waters were not covered worked against Punjab. As of today, Haryana has 40% land and 12 million acre feet of water and Punjab has 60% land with 8 million acre feet of water. What should have been challenged is the Punjab Reorganisation Act which was never done, averred Singh.
On the fight against drugs, the CM said results would be visible in four weeks. A special task force under an IPS officer, Harpreet Sidhu, has been set up and it shall spare none who's found to be complicit.
"Harpeet's mandate is simple. He has to perform and break the back of the chitta (synthetic drug) business. I want this done in four weeks," he said, emphasising the need for a national drug policy. All states have to be on board with the common objective of checking supply of various types of drugs.
Close Story