Will soon expose Lalu Prasad's family links with sand mafia: Sushil Modi
RJD dismissed the allegations against Lalu Yadav and his family as "baseless and absurd".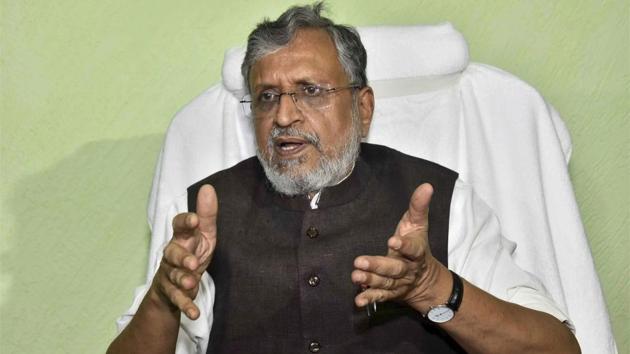 Updated on Aug 02, 2017 12:24 AM IST
Press Trust of India, Patna |
Press Trust of India
Bihar deputy chief minister Sushil Modi on Tuesday alleged that he would soon come out with documentary proof of sand mafia funding the RJD and investing in Lalu Prasad's family assets.
"Sand mafia fund political parties...sand mafia are the main source of RJD's funding...I would soon hold a press conference to make a big expose on Lalu Prasad's family links with those big guns involved in sand mining," Modi told reporters in Patna.
The senior BJP leader asserted that the state government was committed to take action against all types of persons involved in corruption.
In reply to a query as whether he had gone through the file of 'soil purchase', Modi tried to downplay the issue by saying that it was a very small issue.
"We (govt) will see as what action has been initiated in the case. What is the progress in the case and what further action is required to be done in it," Modi said.
"This (soil purchase scam) is a very small issue.
RJD's Bihar unit spokesman and media in-charge Pragati Mehta dismissed the allegations as "baseless and absurd".
"We don't take notice of Sushil Modi's allegations. He has been in the habit of making baseless and absurd allegations against Lalu Prasadji and his family.....There is no force in his (Modi's) allegations," he said.
"BJP is the party of Ambani and Adani whereas ours is a party of poor people which is driven by workers' cooperation," Mehta added.
Earlier on Tuesday, RJD supremo Lalu Prasad hit back at Bihar chief minister Nitish Kumar, accusing him of "betrayal" for breaking the Grand Alliance, and alleged that the "match was fixed" between him and the BJP to form a coalition government in the state.
Kumar in a blistering attack on Prasad on Monday said he had no option but to walk out of the Grand Alliance as he did not want to compromise with corruption.
Close Story