'Wish you happiness always': Rahul Gandhi's message to PM Modi on 68th birthday
Sep 17, 2018 12:59 PM IST
Rahul Gandhi tagged the Prime Minister's personal handle in his tweet and said: "Happy Birthday to our PM, Narendra Modi ji! Wishing him good health and happiness always."
Congress president Rahul Gandhi today wished Prime Minister Narendra Modi on his birthday, wishing him good health and happiness. Prime Minister Modi turns 68 today.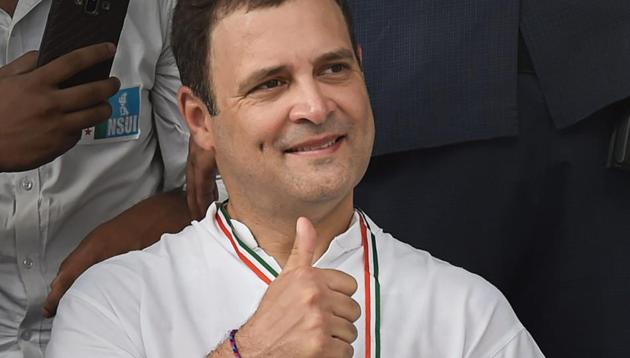 Gandhi tagged the Prime Minister's personal handle in his tweet and said: "Happy Birthday to our PM, Narendra Modi ji! Wishing him good health and happiness always."
PM Modi will be travelling to his parliamentary constituency, Varanasi, to spend most of the day with children, many of them from the underprivileged sections of society. Ruling BJP leaders have planned to cut 68 cakes across the state to celebrate his birthday, each weighing 68 kg.
PM Modi has been receiving birthday messages from his party leaders and political rivals alike from early morning.
Delhi Chief Minister Arvind Kejriwal wished him "a long and healthy life", former Jammu and Kashmir chief minister Omar Abdullah wished him long life and good health.
Former Bihar deputy chief minister Tejashwi Yadav's birthday message, however, was unusually long and was appeared designed to make a reference to that he had to fulfil the "promises shown and given to the people".