With repeat win, BJP bucks the alternating govt trend in Uttarakhand
Mar 11, 2022 12:49 AM IST
The Congress won more seats, 19, than it did in 2017, 11, and also saw its vote share improve from 33.8% to 37.9%, but it failed to capitalise on the anti-incumbency sentiment against the BJP
Since Uttarakhand's first assembly election in 2002, the ruling government has alternated between the Congress and the Bharatiya Janata Party (BJP). This trend was finally broken on Thursday, with the BJP managing to retain power.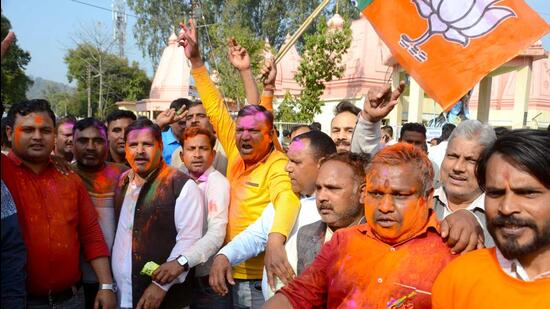 To be sure, the BJP won 47 seats in the state's 70-strong assembly this time, down from 57 in 2017 but its vote share has only decreased marginally from 47% in 2017 to 44.3%.
The Congress won more seats, 19, than it did in 2017, 11, and also saw its vote share improve from 33.8% to 37.9%, but it failed to capitalise on the anti-incumbency sentiment against the BJP.
The Trivedi Centre for Political Data (TCPD) classifies Uttarakhand into sub-regions -- Garhwal and Kumaon -- each accounting for 35 assembly constituencies (ACs). The BJP lost roughly an equal number of seats in the two sub-regions. In Kumaon, the Congress gained all those BJP seats. However, in Garhwal, the BSP and independents gained, by winning two seats each.
The victory margins this time were higher than in 2017 with 54 of the 70 ACs being won with margins higher than 5% of votes cast. In 2017, 51 ACs saw a victory margin of more than 5%.